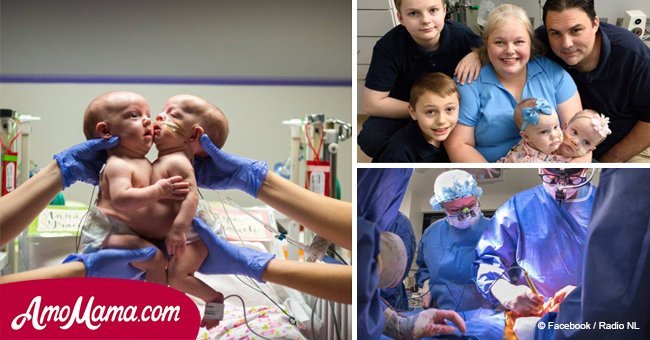 After a heavy two years in hospital, doctors finally share desirable news for conjoined twins
It took two years for parents of the conjoined twins to get some good news.
Shared reported that Jill Richards gave birth to Anna Grace and Hope Richards December 2016.
Jill Richards learned that she was in for a long, stressful journey when she went in for a routine ultrasound in 2016.
She was pregnant with a pair of twins. The expectant mother did not celebrate as her unborn children were conjoined twins.
Jill and her husband, Michael, and their two sons started preparing for the arrival of the new members. But they had to make a few changes in their lives.
They relocated from their home in North Texas to Houston to be closer to Jill's pediatric surgeon.
Preparations by a team of doctors at the Texas Children's Hospital were in full swing for the dangerous surgery to separate them.
In December 2016, Jill gave birth to her daughters, Anna Grace and Hope Richards. The birth was a success but the doctors were worried about the surgery that was to follow.
The girls weighed a combined nine pounds, 12 ounces. They shared a chest wall, heart lining, diaphragm, and liver.
The doctors also faced a unique challenge as the twin's hearts were connected by a blood vessel that would have to be severed.
The family waited for the operation even as a team of doctors spent more than a year rehearsing and preparing for the procedure.
The hospital's Head of Surgery said that dividing the two would be "incredibly complex." The seven-hour surgery required an expert team of 75 doctors, nurses, and specialists.
Despite all the concerns, the surgery was a success. Lead surgeon, Dr. Oluyinka Olutoye, said that the mother broke down in tears when they informed her that the girls had been separated.
She said, "We've thought about and prayed for this day for almost two years. It's an indescribable feeling to look at our girls in two separate beds."
The girls, now one-year-olds, had to remain in the hospital for more than a month while they recovered. The parents got the good news that Anna Grace was able to return home. However, Hope would need more time in the hospital.
Doctors are hopeful she will join her family soon. The family will remain in Houston until the other twin joins them in the near future.
Please fill in your e-mail so we can share with you our top stories!