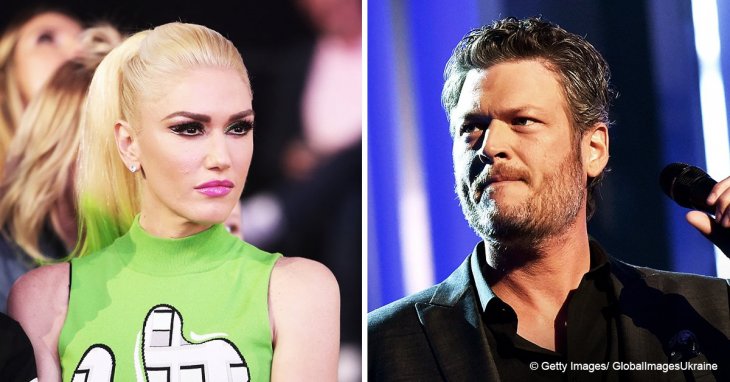 Blake Shelton allegedly secretly broke up with Gwen Stefani a month ago before starting a tour
Power music couples Blake Shelton and Gwen Stefani are reportedly broken up as Blake goes on tour without her.
AmoMama brings to you details of Blake Shelton and Gwen Stefani's alleged break up just before he started his tour as reported by Inquistr on March 15, 2018.
Fans of NBC's 'The Voice' were thrilled when the rumor of coaches Blake Shelton and Gwen Stefani getting together surfaced and it was a dream come true for them when the duo confirmed that they were dating.
Shelton and Stefani found love on the show as they were first friends before evolving into lovers.
Their relationship was very sweet as they've both had their hearts broken in their former relationships: Shelton was formerly with country singer Miranda Lambert and Gwen with Bush frontman Gavin Rossdale, but it seems things have gone awry for the couple.
News has surfaced that Shelton reportedly dumped Gwen a month before his tour.
According to a source, the country singer has had enough of Gwen and can't take it anymore as he has a list of things he can't tolerate anymore.
It was said that Blake is tired of her jealousy and insecurities towards his relationship with The Voice season 13 winner Chloe Kohanski. Blake and Chloe were said to have formed a bond greater than that of a student-teacher relationship on the show and Gwen was suspicious of them both.
Even though it was confirmed that nothing was going on between Blake and Chloe, he got tired of constantly having to reassure Gwen of it.
Also on his list is Gwen's ex-husband Gavin Rossdale, who is unnecessarily critical of his parenting choice when it comes to his kids with the singer. He described Gavin as being 'too demanding and critical'.
Blake's ex-wife Miranda Lambert also has a role to play in their breakup as she chosen to remain in Blake's life as his confidante on relationship matters and Blake has chosen to do the same for her but Gwen isn't at all comfortable with it.
All these are more are reasons why Shelton decided to not take Gwen along on his country tour.
A source close to Gwen said she was devastated by the news as she was so used to accompanying him on tours.
The source disclosed that they had a nasty argument concerning his decision and Blake took off for his tour without even a goodbye.
We hope things are fine with The Voice coaches!
Please fill in your e-mail so we can share with you our top stories!