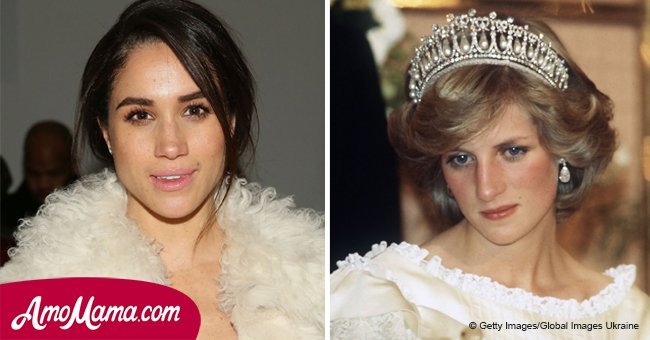 Here are 6 sparkling tiaras Meghan Markle could possibly wear on her wedding with Prince Harry
The wedding is now just two months away, and royal fans are eagerly guessing what the soon-to-be-royal bride will be wearing on the big day.
Meghan Markle and Prince Harry are tying the knot at St George's Chapel at Windsor Castle on may 19. Up until now, details of Markle's wedding get-up have been kept strictly under wraps.
As reported by Closer Weekly, Markle will likely don a tiara as she says "I do," and there is a royal collection fit for a princess belonging to the House of Windsor.
There are six tiaras that Markle may be loaned for her special day in May.
The Lover's Knot Tiara
This beautiful design was originally created for Queen Mary as a replica of a tiara her grandmother owned. Queen Mary's tiara used pearls from other jewellry as drops, but these were removed at a later stage.
Queen Elizabeth wore the tiara in the 1950's, and loaned it to Princess Diana as a wedding present. The late Princess of Wales opted to wear one of her own family's heirlooms on her big day.
The Kokoshnik Tiara
This regal tiara features an impressive 488 diamonds in 61 graduated bars. The design was inspired by the traditional Russian girl's headdress favored by the ladies of the Russian court.
It was gifted to Alexandra, Princess of Wales, in 1888 from the Ladies Society. Queen Mary inherited this prized possession in 1925, and wore it for her official 80th birthday portrait. She bequethed it to her granddaughter, Queen Elizabeth, in 1953.
The Cartier Halo Tiara
This tiara was commissioned by Queen Elizabeth's father, then the Duke of York, for his wife in 1936. Not long afterwards, she became Queen Elizabeth The Queen Mother, and preferred larger pieces. The couple gifted it to the Queen on her 18th birthday.
Then-Princess Elizabeth also leant it to her sister, Princess Margaret, and many years later to her daughter, Princess Anne.
The tiara made it's first real splash in 2011 though, when Catherine, Duchess of Cambridge, married Prince William. She paired it with a set of matching earrings given to her by her parents.
The Girls of Great Britain and Ireland Tiara
This particularly tiara is fairly self-explanatory in its name, as it was a gift from the girls of Great Britain and Ireland. It was purchased from the Garrard jewelry house after money was raised for it as a wedding gift for Princess Victoria of Teck.
The tiara originally featured pearls across the top, but Queen Mary made some changes in 1914. It was then gifted to Princess Elizabeth as a wedding gift, and the reigning monarch is often seen wearin the treasure.
The Greville Tiara
This piece was made for Margaret Greville, a wealthy socialite. It was made of diamonds and platinum in 1921 by Boucheron in Paris. When she passed away in 1942, it was bequeathed to Queen Elizabeth, The Queen Mother.
It wa remodeled in 1953, and the royal was regularly seen wearing it. Upon her death in 2002, it passed on to her daughter, Queen Elizabeth. It has since been loaned to Camilla, Duchess of Cornwall.
The Vladimir Tiara
This masterpiece was made for Russian royal Grand Duchess Maria Pavlovna, wife of Grand Duke Vladimir and aunt of Tsar Nicholas II. At the time of the Russian Revolution, it was smuggled out of Russia, and sold to Queen Mary.
The royal sent it for restoration, and can now be worn in three ways: with pearls, with emeralds, or without either.
Queen Elizabeth inherited the tiara in 1953, and the monarch regularly takes it out of the closet.
With so many options available, everyone is wondering which one Markle will wear when she marries Harry.
Up until now, she has never been seen wearing a tiara, as is royal tradition. A tiara was traditionally used to symbolize at evening events that a woman is married, and as such the former actress will not likely be seen in one until May 19.
Please fill in your e-mail so we can share with you our top stories!