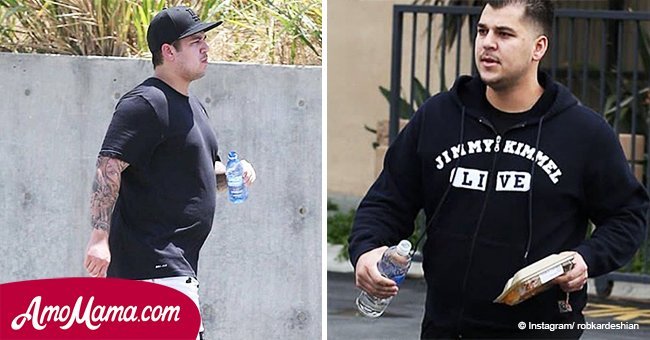 Kris Jenner's only son Rob celebrates his birthday and shows off his drastic weight loss

The reality star has struggled with his weight for many years.
On March 17, 2018, Rob Kardashian showed off his slim frame while celebrating his birthday, as reported by Life & Style.
The 31-year-old television personality recently made his fans worried when he tweeted that he missed himself.
He also decided to stay out of the spotlight when he gained a lot of weight. But during his birthday celebration, Rob made a rare appearance on social media. Many fans noticed that he looked slimmer, happy and fit.
Rob's sister, Kim Kardashian, took to her Instagram account to post a photo of Rob with his daughter, Dream Renée Kardashian.
Apparently, Rob had been putting in some work in the gym with the help of his sister, Khloé Kardashian, who is currently pregnant.
A source claimed that Khloé's mission is to get her brother healthy again. "She has a couple of months left before her baby arrives and her big priority is getting Rob back on track," the source said.
The source added that Rob was grateful for Khloé's help and that he wanted to get back to being himself again because he misses his life.
The businessman was actually making some progress, though he hasn't lost a ton of weight yet, he's down to 15 pounds and it's a good start, the source explained.
"Khloé has challenged him to drop another 20 pounds by the time she has her baby, that's the goal," the source continued.
Rob is known for appearing on Keeping Up with the Kardashians. In 2011, he was a contestant on season 13 of Dancing with the Stars. He was paired with two-time champion Cheryl Burke.
He began dating model, Blac Chyna, in January 2016. They became engaged on April 5, 2016. Their daughter, Dream, was born on November 10, 2016.
In December 2016, Rob announced on his personal social media account that he and Chyna have split.
Please fill in your e-mail so we can share with you our top stories!