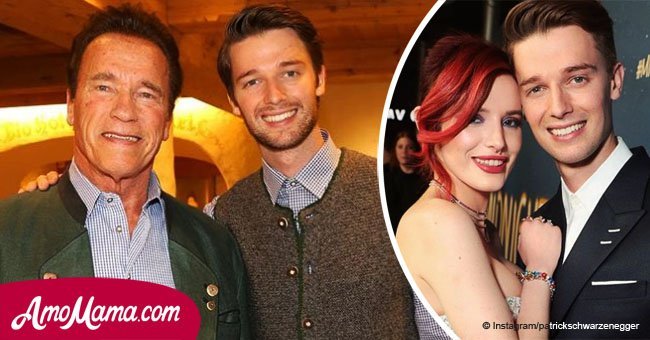 Arnold Schwarzenegger's son Patrick causes family to rave over a Hollywood leading role debut

Many people asked if he will be as good of an actor as his iconic father.
As reported by ET, Patrick Schwarzenegger, the son of Arnold Schwarzenegger, made his debut as a romantic leading man in the movie, Midnight Sun. The 24-year-old star's prominent family were so excited about his breakthrough performance.
Patrick's mother, Maria Schriver, and his two sisters, Christina and Kathrine Schwarzenegger, attended the star-studded premiere of his new film at the Arclight Cinemas in Hollywood on March 10, 2018.
They came out to show their support for Patrick and they couldn't contain their excitement over his first major role as Hollywood heartthrob.
"It's exciting for him, it's so sweet for him. He's such a good young man. I feel accomplished. When I see [all] my kids together and happy, I feel accomplished."
Maria Schriver, ET, March 15, 2018
Katherine said that they are so proud of Patrick's achievements. She added that her handsome brother is a man now.
Abby Champion, Patrick's girlfriend, was also spotted during the event. Shriver said that she loves Abby because she's a wonderful young woman and that she's terrific.
Unfortunately, Patrick's younger brother, Christopher Schwarzenegger, 20, wasn't able to attend the premiere due to his school schedule.
His father, Arnold, didn't make it to the premiere as well because he was in Australia at the time. But the legendary action star showed his support through Instagram.
The Commando actor wrote that he is so proud of his son and that he can't wait for his movie to hit the theaters on March 23, 2018.
ET also spoke with Patrick. He shared his appreciation for the love he has received from his family. He also explained how different it is to be the one getting the support on a red carpet.
"It's really cool to be here for my own project. Usually I'm here for my dad's or my mom's or something, so I'm excited to have them here to support me," he said.
Patrick had small roles in several films, including Stuck in Love, Grown Ups 2, and Scouts Guide to the Zombie Apocalypse.
Please fill in your e-mail so we can share with you our top stories!