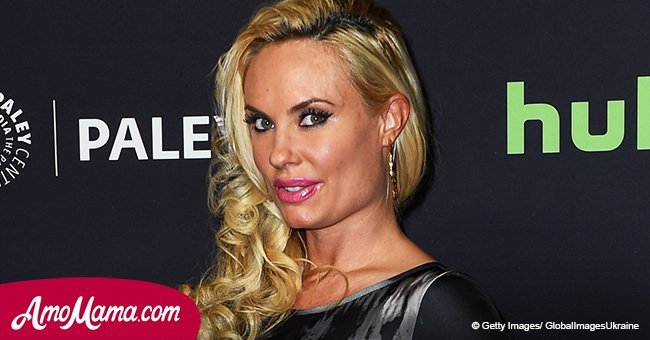 Coco Austin and her 2-year-old kid wear matching outfits, revealing their mother-daughter bond
Rapper Ice-T's queen and princess went out on a shopping spree with him and they couldn't have looked more awesome.
Coco Austin and her little girl with Ice-T, Chanel Nicole Marrow, went twinning on a Sunday shopping spree. AmoMama gives you the details from Daily Mail.
The reality TV siren really likes matching with her two-year-old daughter. This time, as they strolled through a Westfield mall in Los Angeles, they were both dressed in the same black and gold T-shirt as well as a pair of black pants for the mother and a pair of leggings for the little one.
Their shirts read a different thing though. Coco's shirt stated "Queen" with the number 79 while Chanel had a top that bore the word "Princess" with the number 15.
Coco accessorized Chanel with a black headband that had a huge bow on it, making her look even more adorable while Coco herself added a blinged-out belt to highlight her voluptuous waistline.
The web personality donned a pair of stunning black footwear. She had black pointy pumps with diamonds on the toe area. Meanwhile, Ice-T went for a casual look and was garbed in a black T-shirt, black leather jacket, and jeans.
But on a post that Coco shared, it looks like Ice-T also donned the same shirt but with the word "King" and the number 58.
He also wore a black cap and a gold chain, which he hung on his sunglasses. He could be seen pushing Chanel's stroller at times. With the family was a young man who appeared to be Ice-T's son, Tracy Marrow Jr., with Darlene Ortiz. He wore a similar outfit with his father.
The family recently took a trip to the Bahamas and the ladies showed their courage as they swam with the sharks. But she teasingly wrote in an Instagram post caption that her husband did not make it in the water.
Comment down below and let us know what you think of Coco and Chanel's twinning outfit!
Please fill in your e-mail so we can share with you our top stories!