Angelina Jolie was spotted with kids looking healthy and happy amid crisis rumors
The mother of six was picture perfect enjoying an afternoon with her two girls following her recent revelations about motherhood, her own mother and her thoughts on aging. 
Among the many hats Angelina Jolie wears, it's the one she puts on when with her children that's closest to her heart. And though she juggles this responsibility with the other roles she plays that often keep her in the limelight, she always makes the effort of providing a normal life for her kids. And on Monday, the mother of six did just that when she was spotted treating her two girls, Zahara and Vivienne, to an afternoon of frozen desserts on Melrose Avenue and she was a picture of health and bliss while enjoying a relaxed stroll.
Dressed in a black rain coat and black high heeled boats, the 42-year-old Oscar winner was glowing when she was photographed enjoying a salted pretzel while her two girls savored the frozen treats they bought from a Happy Ice food truck. Zahara opted for a lemon sherbet while her younger sister Vivienne cooled up with the rainbow version.
According to the Daily Mail, a few days earlier, Angelina opened up about her children, her mother and what aging means to her in a candid interview for InStyle Magazine.
Speaking about social media and the influence and pressure it imposes upon people, she proudly revealed that her children "don't really do a lot of social media."  She explained that she would rather they find themselves on their own without other people dictating what they should like and dislike.
"I'm hoping they'll have room to figure out what they like before they're told by a bunch of other people what they should like or how they're being perceived."
On that note, the actress recalled what her mother, Marcheline Bertrand used to tell her,
"Let me see your soul."
This the actress explained meant being herself and showing her true colors. She
"That was her thing. Whenever I'd get upset or something, she'd say, "Let me see your soul." What it meant was, 'Show me you. Are you mad? Let me see.' I've never really talked about that. I think, I hope anyway, that's how I'm raising my children: Put what's inside you forward and find you, figure out who you are."
Having been very close to her late mother, Angelina gushed about how much she's turned out like her. She realized that as she got older, the more she saw her mother in her.
"I look in the mirror and I see that I look like my mother, and that warms me. I also see myself aging, and I love it because it means I'm alive—I'm living and getting older."
The beautiful star also has a beautiful mind that chooses to see things in a positive perspective and appreciate her flaws for what they truly mean.  
"Don't love having a random dark spot from a pregnancy, sure. I see my flaws. But what I see that I like isn't about a structure or an appearance. It's more that I see my family in my face. I see my age."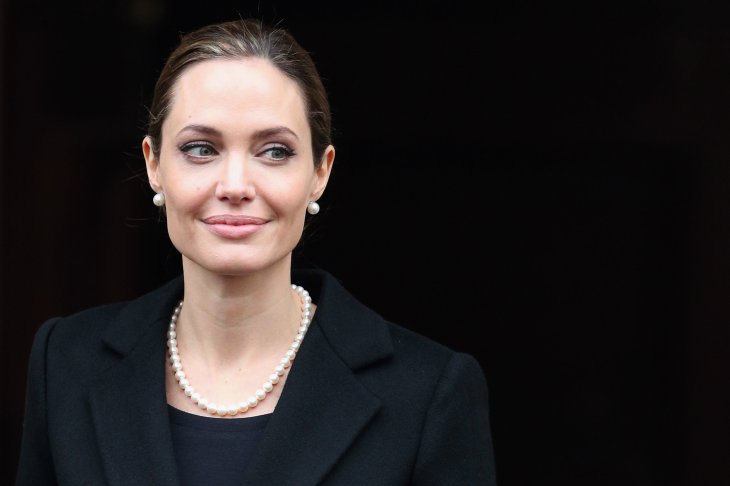 The actress was also very candid about how she was then and how her kids are today.  For instance, while she was more of a tomboy when she was young and then a punk as she got older who dyed her hair using a Sharpie, Zahara's thing was make-up.
She revealed she was never into make-up when she was young but she now enjoys watching her 13-year-old experiment with it with her friends.
"I buy a lot, especially for Z [Zahara]. She went through a period of trying different things, but she's pretty natural. I remember she had a girlfriend over one night, and they said they were going to do dress-up and did I have any makeup?"
She adds,
'"I gave them my makeup, but I wear one color red, and I have black eyeliner and mascara—I have the most boring makeup kit. And my daughter and I are different shades of brown. I now have a backup kit in case anybody wants to play." 
Angelina's interview was accompanied by a series of black and white photos where she wears a sleeveless white ensemble that showcases her many tattoos. She completed her look with her trademark red lips.