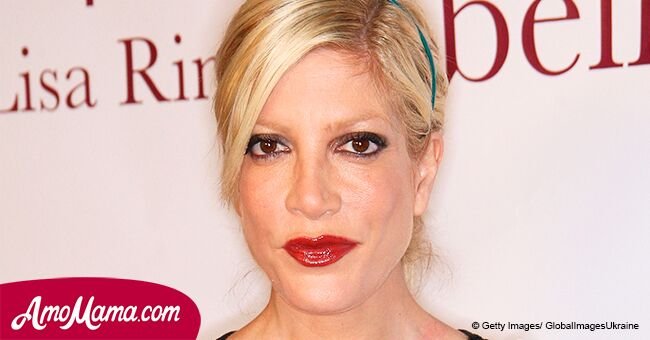 Tori Spelling, 44, shares a sweet photo of herself kising second youngest son Finn, 5

Tori Spelling took to Instagram last Tuesday to share a sweet post about her five children on the first day of Spring.
Pertaining to her children as blossoming flowers just as what occurs during Spring time, Tori posted an interesting caption to her photo.
"It's the 1st day of spring... I can't believe my fourth 'bud' Finn has blossomed into this strong beautiful funny and kind five-year-old flower. I love watching all five of my babes blossom. I water them with love daily and empower them to grow to their fullest potential."
In the photos, she was cuddled up next to her son Finn, who was born in 2012.
Just over a year ago, Tori gave birth to her fifth child and third son Beau. Her husband Dean McDermott said 'never say never' when asked about more children, but said that their hands are pretty full right now.
Tori and Dean's four other children include Liam, 11, Stella, 9, and Hattie, 6.
Despite their very happy family facade, police were called into their home weeks ago due to a 'domestic incident'. It seems neighbors reportedly heard a noise in their home and called the police, only to find it was Dean coming home.
A few days later, Dean was concerned with his wife and called the police after she was said to have left home with one of her children as she went to her doctor's appointment.
Drama soon after followed their family when they were escourted out of Black Bear Diner by cops in their home near Thousand Oaks.
Please fill in your e-mail so we can share with you our top stories!