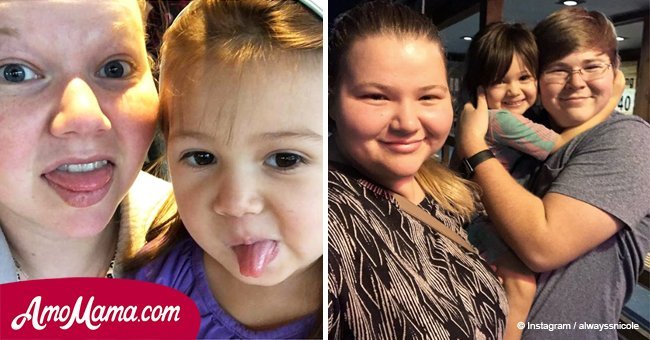 '90 Day Fiance' star reportedly left her daughter after she moved to Morocco with her beau

In a shocking turn of events, it appears that the 21-year-old Nicole Nafzinger left her daughter in the States with her sister.
Nafziger was living in Bradenton, Florida when she met her 23-year-old partner, Azan Tefou from Agadir, Morocco, via an online dating service.
The couple appeared in the fourth season of 90 Day Fiance in 2016 and made an appearance in season five as well. Their relationship has been a rollercoaster from the start.
On March 14, 2018, Nafziger shared a photo of her sister and her daughter, May, with her 86,400 Instagram followers, as reported by Inquisitr.
In the caption, she wrote, 'my sister and May are so cute, silly girls.' Fans are astounded that Nafziger would abandon her daughter for a man who doesn't love it.
According to Inquisitr, Tefou is only using Nafziger for a green card. He wanted to become a citizen so that he could bring his other girlfriend to the states.
Their relationship has been shaky from the day they met, with Tefou remarking that she is 'big, a little bit,' when he saw her at the airport.
During season four, Tefou also tried to explain to Nafzinger that it is inappropriate for unmarried couples to be physically affectionate. He became irritated when she ignored him and tried to kiss him in public.
As their story unfolded, it also became clear that Nafziger 'continues to chafe at the customs of' Tefou's culture. Neither she nor Tefou wanted to convert to the other's religion.
Fans tried to reason with Nafziger. Alicia Abella reminded the smitten mother that May is precious and begged her to open her eyes.
She added that Tefou is 'terrible' for her, and told Nafziger to focus on her daughter. Jessica Rodriguez added that Tefou only using her 'and it shows.'
She couldn't believe that Nafziger would abandon her daughter for a man who 'doesn't love you or like you.' According to Elizabeth, Nafzinger married Tefou while in Morocco.
Please fill in your e-mail so we can share with you our top stories!