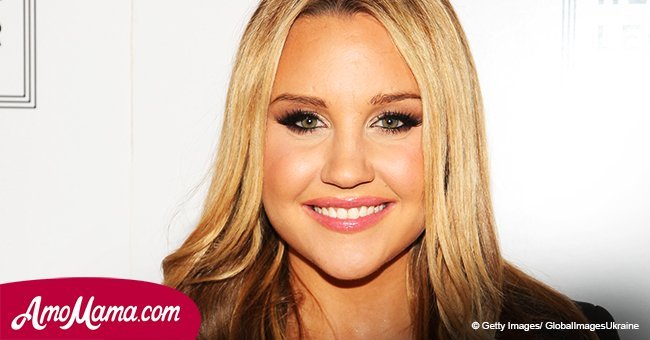 Amanda Bynes, 31, looks as healthy as ever as she steps out in a tight fitting black outfit

The actress now looks collected and ready to make a comeback following her public meltdown in 2014.
Troubled star Amanda Bynes seems to be making a bold comeback now that she's left her demons behind and is looking for a fresh start. And on Monday, she showed up looking chic and healthy at an office building in Los Angeles together with her life coach Joy Stevens.
The 31-year-old's recent appearance comes as a pleasant surprise to many who saw her at her worst following her public meltdown in 2014 which prompted her family to commit her to a Pasadena psychiatric facility for treatment.
In photos shared by the Daily Mail, Amanda looked very composed in an all-black fitting ensemble that showcased her much slimmer physique. She accessorized with a pretty plaid scarf while sporting red lipstick and a pair of blue-tinted sunglasses. She slipped into comfy gold high top Nike sneakers while her hair was neatly tied in a ponytail with bangs covering her forehead.
Noticeably on her fingers were long pink-manicured nails which may be an indication of her current mindset – taking care of herself.
And that's exactly what she's been doing lately as she plans to kick start her career. In fact, she's been taking acting classes to gear her up for her comeback.
She's also recently returned to Twitter after a year-long hiatus and her first post captured a night out with friends where she looked happy and put together. With her long blonde hair neatly cascading down her shoulders and flattering make-up, she was glowing as she posed with her two girlfriends while having dinner at Girasol, as she described in her caption.
Last December, Amanda revealed that she was feeling great and hopes to get back into acting soon. Her lawyer told Page Six that she already had offers but was still looking for the perfect comeback vehicle.
Amanda's troubled past was littered with several run-ins with the law. In 2012 she was involved in a DUI charge, and a year later, she was arrested for throwing a bong out of the window of her Manhattan apartment.
It seems all that is behind her now as she appears to be poised to give herself and Hollywood another chance. Here's hoping this time it's for good.
Amanda will be turning 32 next week.
Please fill in your e-mail so we can share with you our top stories!