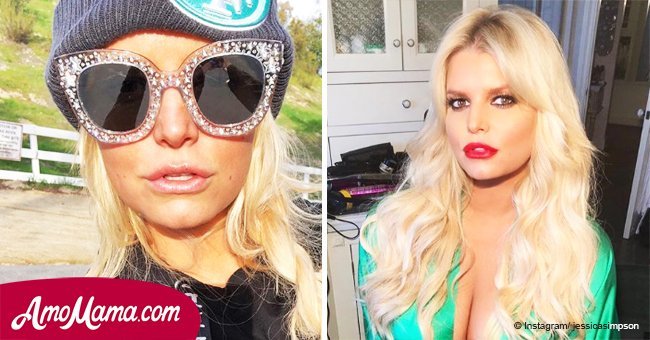 Jessica Simpson gets backlash after fans saw her lips in a recent photo

The 37-year-old singer, Jessica Simpson, has been sharing fitness motivation with her fans. But her followers focused on something else.
On March 20, 2018, she uploaded a photo to Instagram, which went viral. It had been liked more than 57,000 times with 650 comments in the three days it's been online.
As reported by Pop Culture Celebrity, her 4.1 million followers didn't make a lot of mention of her fitness workout or the fact that she aims for 12,000 steps a day.
Instead, they focused on her lips. Many fans continuously remind her that the injections are making her lips 'look weird.' One fan even wrote it that she 'looks ridiculous.'
While some Instagram users just get a thrill out of posting mean comments, others were genuinely concerned and begged with Simpson to get help.
Simpson hasn't responded to the criticism directly, but that isn't strange as she hardly ever responds to her followers views on Instagram.
A user known only as Happy Flicka said her mouth looks terrible because 'of all the fillers and injections,' while Norm Bligh said she looked too skinny.
Another critic suggested in the same post that Simpson probably doesn't realize how bad it looks because she sees it every day. He added that 'someone needs to tell her it looks bad.'
Not all the commentary was negative. Ian Lovell said Simpson 'still have the best lips out there,' while Faye said that she still loves Simpson, and referred to her as an idol.
Leslie Bell added that Simpson must continue to do her thing and told her 'not to get into the drama.' She assured Simpson that she is 'awesome.'
Roxy Hart commended Simpson for her weight loss and her new fitness regime, adding that she also built her business up while raising a beautiful family.
Please fill in your e-mail so we can share with you our top stories!