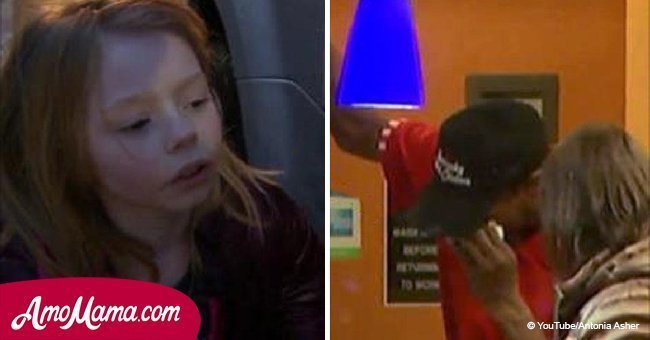 Man says to chef that no black guy is allowed to touch his food. But little girl has an answer
A little girl and her mother decide to encourage an African-American man with a small gesture.
8-year-old Autumn was at a local KFC in White Center, Washington along with her mother, Danee Maserang, when she heard a customer shouting racist comments at a man behind the counter who was African-American.
According to Liftable, Autumn and Danee both could hear the angry customer's rants, who was shouting that he refused to eat anything that was touched by a black man.
Not only did the KFC cook look hurt, but the customer's comments also left the mother-daughter duo feeling bad. Both of them then decided to do something for the cook to show that they each and every one of us are equals despite our races.
Danee then contacted her friend, Jana, who also happened to be an art teacher at a Christian school. As soon as she heard about the sad KFC cook, she had an idea.
She immediately made her students create various cards which addressed the cook. On the cards, the students wrote words of support for the cook and also arranged a few gifts for him.
Autumn then joined Danee and Jana along with other children to give the letters to the KFC cook. When the man received the letters, he was so touched by the gesture that he immediately broke down in tears.
Little Autumn and other school children learned an important lesson about equality that day, but it is still surprising how racism seems to be rampant in our society even today, the source further wrote.
Needless to say, several non-white Americans are regularly bombarded with racial slurs and prejudice each day of their lives and it needs to stop. And it can only stop with small efforts like the one showed by Autumn and her friends.
Please fill in your e-mail so we can share with you our top stories!