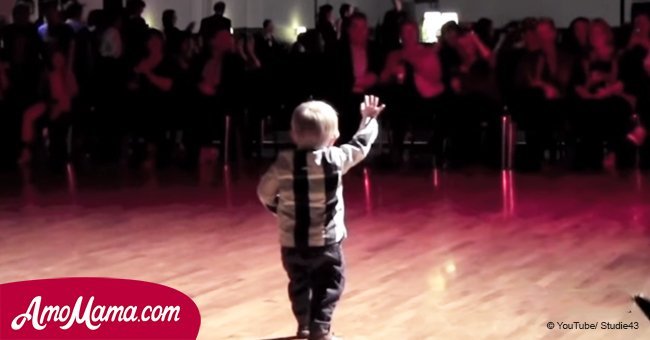 Baby hears favorite song come on, starts to dance. He gives a very proud bow at the end

It is often said that people should follow their dreams no matter what. The best way to do it is by practicing as much as possible.
Even though he is only 2 years old, William Stokkebroe knows it and proved that he has been improving his moves. During a party, he attracted all sights as he got in the middle of the dance floor and showed all he can do.
According to Happiest, his parents, Kristina and Peter Stokkebroe, were as surprised by little William's moves as the rest of the dancers who got together at Studie43.
It was so good that the 'Dancesport' studio recorded a video and has been using it as a way to prompt people to join them with the catchphrase of 'it is never too early to start.'
In it, he is seen dancing to Elvis Presley's Jailhouse Rock. He started moving his arms and legs in every possible direction while doing some small hops through the dance floor.
He later stood in one place and began moving his hips while waving his hands to the audience who was astonished by the confidence William showed. When the guitar solo started, he went in circles actively moving and jumping.
At one point, it could be seen that he was even lip-syncing and dancing at the same time, something that not many people is capable of. After clapping and inviting others to do the same, he finished with a bow.
At the end of the presentation, he proudly walked to the spot where his family was and they greeted him with a high-five and a warm hug.
Even though the family has not said anything about it just yet, it is very likely to see more videos of William showing off all he has learned from his parents in the future. All that is left to do is wait for it
Please fill in your e-mail so we can share with you our top stories!