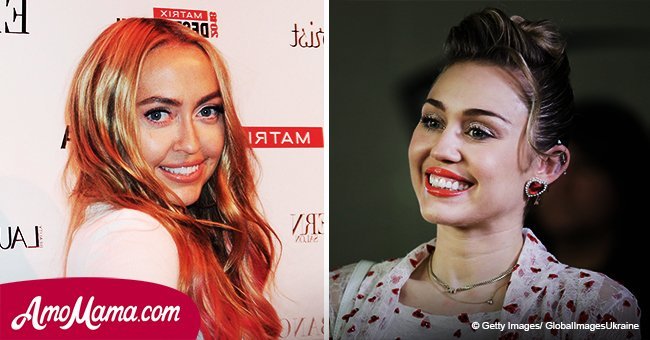 Miley Cyrus shares a photo with her stunning 30-year-old sister. The two look identical
The pop singer shared a photo with her older sister and the two couldn't look more alike! See the photo.
Miley Cyrus and her older sister posed for a snap where they both held beverages. Miley had some kind of milkshake while her older sister held a cup of coffee. Along with the Instagram photo, Miley wrote:
"Big sissy day! So happy @brandicyrusis with me for such a special moment! #MarchForOurLives PS I Love DC! Such an amazing city with incredible Vegan options! Getting fueled up for tomorrow!"
The fans loved the photo and how Miley stood up against gun violence. Some commented on how pretty she was and others remarked how much she and her 30-year-old sister, Brandi Cyrus, are such sister goals.
Brandi is Miley's older sister who works as a DJ and has also starred in the reality TV series called Cyrus vs. Cryrus: Design and Conquer. She works with her mom at this interior design show.
It was also at this March for Our Lives protest last Saturday that Miley reunited with her co-Disney star, Demi Lovato. Demi and Miley, who are both 25 years old, posed for the cam to celebrate their long-running friendship.
Miley posted a photo on Twitter of the two smiling widely in D.C. and wrote: "Been friends forever & happy to stand with you on important days like this!"
In a report from People, Demi has previously said that she was proud of Cyrus. Miley revealed in 2017 that she was "completely clean right now" as she has given up drugs and alcohol. The Sorry Not Sorry singer told The Hollywood Reporter:
"I am really proud of Miley. I think that it helps people to know that there are people in the spotlight that have challenges, that are faced with very stressful lives. I think it helps that recovery is possible and it's something that is so important to certain people like myself."
The two singers were best friends back in their Disney channel days but they grew apart and Demi said back in 2014 that they were "like acquaintances." But as one can see, they still treat each other as good friends!
Chime in the comments and tell us what you think about this Miley Cyrus news!
Please fill in your e-mail so we can share with you our top stories!