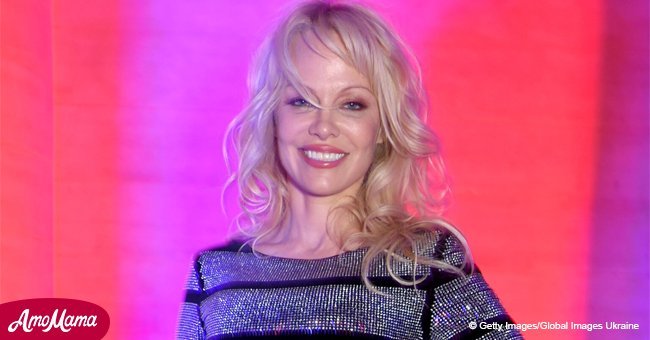 Pamela Anderson, 50, dons a skimpy black gown during an outing with handsome 21-year-old son
Most families have experienced some sort of drama at least for a short period of time. Celebrities are no different and Pamela Anderson is an example.
She and her son, Brandon Lee, were spotted together on March 26, 2018, at Craig's in West Hollywood, a couple of weeks after the altercation that Brandon and his father, Tommy Lee, had.
According to ET Online, the incident made the Los Angeles County's Sheriff Department start a criminal investigation to try to learn more details of what happened. So far, it is known that Brandon punched Tommy in the face.
The musician and founding member of the glam metal band Mötley Crüe let his Instagram's followers know it by posting a since-deleted photo of his bloodied face on his social media account.
Anderson, 50, immediately defended his 21-year-old son saying that Tommy's alcoholism was the real reason behind the altercation. She added that she was calmed because she was sure that the justice was at work.
Tommy admitted that the whole situation was very depressive and that things went out of control, but he denied that his alleged alcoholism had something to do with the fight.
He pointed out that his fiancée, social media celebrity Brittany Furlan, has been the only person who has helped him with his alcohol issues as she asked him to get into therapy, which he has been doing for a while.
Apart from that, he said that neither Anderson nor their children Brandon and Dylan have asked him even once about his alcoholism as they never considered it as a real problem. As a way to blame Anderson, he confessed that she 'poisoned' their sons against him.
It is not the first time Tommy is linked to legal troubles, though. In 1998, he served six months in county jail after pleading no contest to kicking Pamela Anderson while she was holding their son Dylan.
According to the police report, he did so because Anderson refused to call her parents to tell them not to go to their home, which ended up in a fight that left her with bruises, a torn fingernail, and fear for the safety of her two sons.
Please fill in your e-mail so we can share with you our top stories!