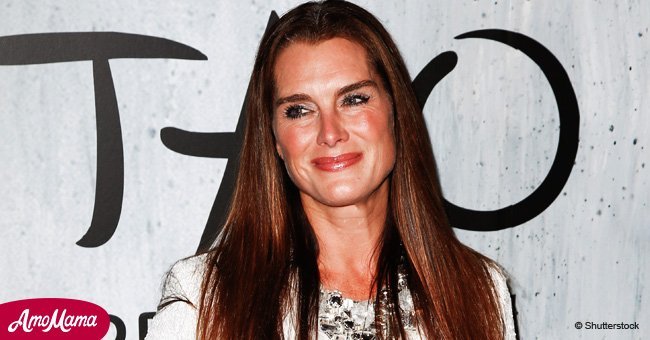 Brooke Shields shows off her never aging fit body in a tiny bikini amid a tropical paradise
Many are envious of 52-year-old actress and model's fit body.
Brooke Shields flaunted her age-defying body in bikinis during her tropical vacation recently, reported Inquisitr.
Shields posted photos to her Instagram account showing her flawless figure.
The actress and model is seen posing on a wooden stairway by the ocean with her hands on the railings. Another image has her posing with her back to the camera.
She posted the second image on March 26 and is seen wading in crystal blue water. The aerial shot reveals Shields in a dark blue bikini during her swim.
'Bikini life in paradise.'
Brooke Shields, Instagram, March 26, 2018.
She captioned the photo, 'Another Blue Lagoon,' referencing the iconic film she was part of back in 1980.
Over the past few days, the iconic actress has been posting images of herself in a tropical paradise. Besides swimming in the pool, she was jet skiing in the clear turquoise water.
Speaking to Health magazine in December 2017, Shields said that she strives to be as healthy as she can, adding that there was no magical solution.
She aims to drink a lot of water, exercises regularly, and refuses to deny herself certain kinds of food.
The Blue Lagoon actress said that moderation was harder as it required "committing to balance." She confessed that she avoids certain food or have a certain drink and that was pretty much what she thinks about consuming.
She believes that it gets "exponentially harder" for people to be healthy and look incredible as they get older. She noted that 50 was a tarrying number for some people.
However, she ended up loving it when she turned 50 herself because she did not feel that age. She only felt 38 or 42 and not 50!
She also revealed that she does a variety of activities as part of her workout regime. She maintains her age-defying appearance by mixing things up.
Over the last 12 years, she has been doing SoulCycle and has started Pilates. She also uses an Indo Board to improve her balance and keep her core strong.
Another tough workout that has made a big difference is doing hamstring pulls and sit-ups using inversion boots to hang upside down.
Please fill in your e-mail so we can share with you our top stories!