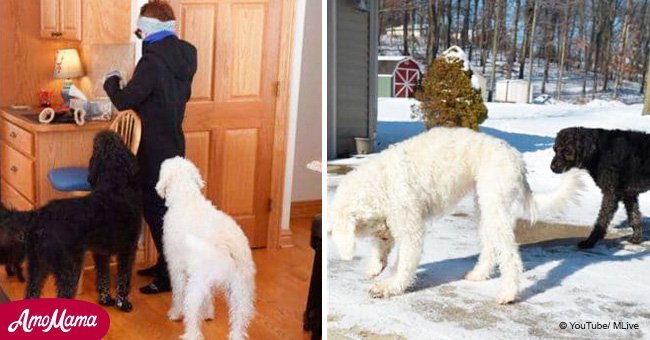 Dogs save woman from freezing. It could've been a horrible tragedy for her family

Dogs have proven time and again that they are man's best friend. Two dogs saved a woman's life when they alerted their owners to her situation.
Pet owners Lonnie and Susan Chester from Norvill, Michigan, was concerned when their Labradoodles woke them up at 4:30 am on a cold Saturday morning.
Lonnie said that the dogs, named Adam and Eva, were behaving strangely. As reported by So Share This, the dogs had never woken them up during the night times before.
Adam started tugging at Lonnie's clothes, pulling him towards the door. At first, he didn't want to let them out for fear that an intruder might be lurking outside.
Lonnie cautiously opened the door. His intention was just to peek outside, not to fully open it, but Adam pulled the door open with his paw and rushed outside.
Both Adam and Eva ran towards Lonnie's truck. Lonnie thought that a thief might have been in the process of stealing his vehicle, so he followed the dogs.
Instead of an intruder, he found a senior woman, dressed only in a nightgown, lying in the snow next to his truck. He guessed that she was in her late 80's.
Lonnie rushed over to help him. She was still conscious and told him that she was freezing. She had no idea how long she had been out there, and Lonnie could only imagine how frightened she must have been.
He picked her up and carried her to the safety and warmth of his home. Susan brought blankets to cover the woman up while Lonnie notified the local authorities.
The emergency responders arrived within minutes of Lonnie placing the call. They stabilized the woman and took her to hospital.
Her family was relieved; they had been searching for her for hours. Had it not been for Adam and Eva waking their owners, she would most likely have died in the 9-degree Fahrenheit temperatures.
Please fill in your e-mail so we can share with you our top stories!