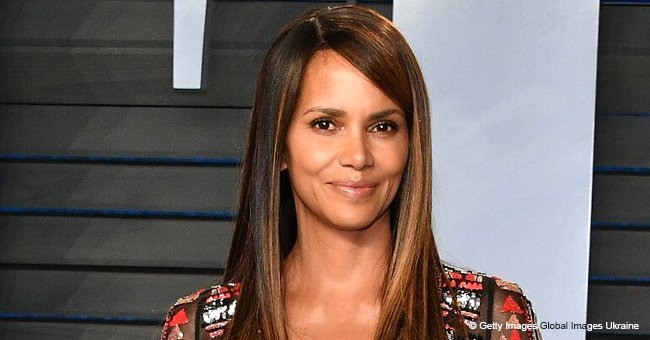 Halle Berry ditches her shirt & bra as she strikes a difficult yoga pose in nothing but knickers
- Halle Berry is one of those actresses that doesn't seem to age.
- Approaching 52 in August of this year, this superstar yet again surprised fans by sharing a photo of her perfect body to Instagram.
- Halle's mission to transform her mind, body, and soul is clearly paying off, and after all the hard work she has put in, she's more than entitled to show off the results to her fans.
AmoMama learned from Instagram that Halle Berry has once again wowed with her perfectly toned physique.
The actress appeared upside down in a complicated yoga pose, showing off her perfect form in a pair of black knickers.
Halle is clearly taking her fitness and overall wellbeing very seriously.
It's clear to see from her long and extensive caption to her photograph, which also challenges fans to send in their own pics of their yoga poses with the hashtag #FitnessFridayHB.
Halle advises that taking only 20 minutes a day to reflect through mediation or prayer, will change your life tremendously.
'So today, if you don't already, try to find 20 minutes to meditate or pray. If you can make this ritual a part of your dailies, watch how your life will transform!'
She has been sharing several health-inspired posts over the last few months, taking her fans along on her journey, and dishing out advice to those who also wish to improve themselves.
According to the actress, starting your own road to better health and wellbeing is really as simple as deciding it's time.
'You asked how to get started? It's simple... you just decide to start! You decide today that you are worth it! Trust me, I know it's hard to focus up and dedicate time to working out each day, but with 24 hours in a day you can surely take ONE and dedicate it to YOU!'
Yes, unfortunately there's no magical formula to achieve Halle's gorgeous body.
It's going to take a lot of sweat and tears.
As they say: No pain, no gain.
Do you have any daily rituals or tips to take care of your body and overall wellbeing?
Source: Instagram
Please fill in your e-mail so we can share with you our top stories!