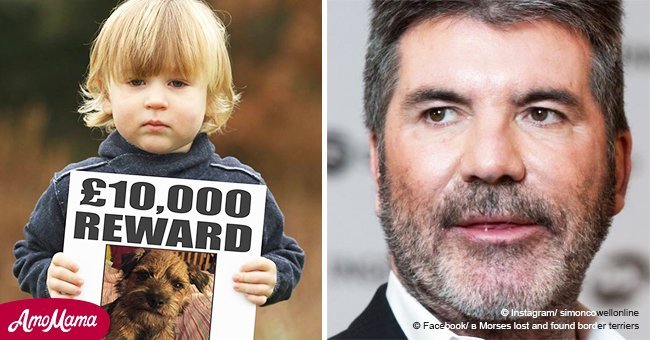 Simon Cowell helped a 3-year-old boy find his stolen puppy by offering a huge reward
The celebrity judge decided to help a young boy who had lost his little puppy during the time of Christmas.
Simon Cowell, known for being cranky and strict on the set of his reality shows, showed his softer side by offering a reward of $10,000 to anyone who would return 2-year-old Edward Latter's puppy back to the family.
According to So Share This, Edward lost his 9-month-old border terrier, Morse, and had to spend his Christmas holiday in a grim mood. The boy along with his dad, Richard, and mother, Amanda, did everything in their power but the puppy was nowhere to be found.
Richard then began a Facebook group to initiate the search for the missing puppy. While Edward wrote a heartfelt letter to Santa Claus asking for but one gift - to have his puppy returned to him.
'I just want one present for Christmas this year, my dog Morse back. I've been a very good boy all year. Thank you, Edward aged two and three-quarters,' the source quoted the boy as writing in the letter to St. Nick.
When Richard's Facebook post finally gained a huge number of shares that it caught the attention of Cowell. The star then immediately decided that he wanted to help.
He then announced that he was going to reward $10,000 to anyone who helped the family find their dog. A source close to Cowell even stated that it was heartbreaking for the star to know that a little boy's Christmas had been ruined.
Following Cowell's announcement, several people began emailing the photos and snippets of the information that could lead to finding Morse.
Then, after weeks of searching for the terrier, the family finally received some hopeful news from a local man who called them. The man reported that he had spotted a dirty, muddy dog walking the streets, which looked just like the dog in the missing reports.
Although the family was initially doubtful, they were in for a big surprise when Edward recognized the dog right away.
Please fill in your e-mail so we can share with you our top stories!