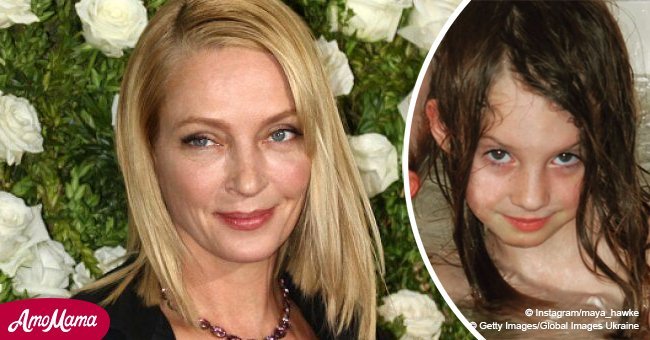 Uma Thurman's teen daughter is 19 now and this young lady looks so similar to her star mom

When your parents are Hollywood royalty, carving out a credible acting career that is in no way overshadowed by their fame and influence is no easy thing.
But Maya Hawke, the 19-year-old daughter of Uma Thurman and Ethan Hawke has successfully managed to eclipse her A-list lineage by taking on the role of a lifetime to play one of literature's most beloved heroines.
Airing in the US on May 13 on PBS, Maya plays the lead role of Jo March in her breakout role in the miniseries adaptation of Little Women, and in an interview with Elle, shared that she's always felt a connection to the character.
According to an ET Online report, the role of Jo March was made famous on screen in 1994 when Winona Ryder starred alongside Christian Bale and Gabriel Byrne in the film version.
'Jo was a big inspiration to me as far as having the drive to pursue my love for reading and writing, even when it was challenging,' she shared in the April issue of the magazine. 'In a lot of ways, I have been preparing for this character my entire life,' she added.
Diagnosed with the learning disorder dyslexia as a child, acting and modeling came easier to the Brooklyn native than school work, and she frequently changed schools as she struggled with the academic side of her education.
However, when she finally enrolled in Saint Anne's School in Brooklyn, a school that emphasizes artistic creativity and does not grade work, Maya hit her stride and the artistic nature of the school led her to acting.
While Hawke compares her struggles with writing to 'pulling teeth,' acting has always felt 'like swimming, breathing, or kissing' and performing has always come easily to her.
Maya was thrust into the public eye practically from birth and suffered the same scrutiny when her parents divorced in August 2005. She said, "The world of celebrity that comes with the world of art is not particularly interesting to me."
While filming Little Women, she sought guidance from her parents as she wondered if she should focus more on the lighting or on her narrative in the scene, to which both parents replied, 'Do both!'
Please fill in your e-mail so we can share with you our top stories!