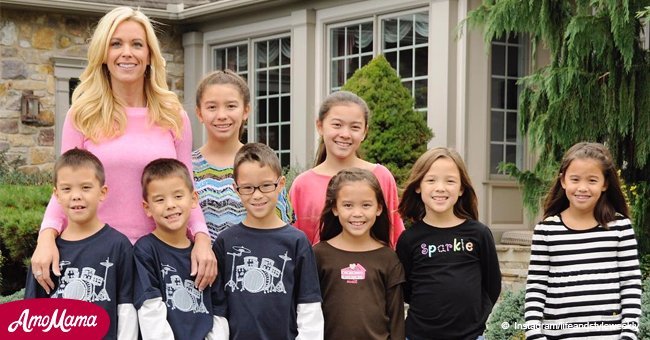 Kate Gosselin sparks engagement rumors by flaunting her huge new diamond ring
Social media users decided to read more into the story after the reality star uploaded her video.
As reported in an article published by In Touch Weekly, followers of Kate Plus 8 star Kate Gosselin speculated over her relationship status by spotting a ring on her finger in photos uploaded on social media.
Gosselin celebrated her 43rd birthday on March 28 and took to social media to share a sweet message with her fans and followers. Some social media users spotted a huge diamond ring on Gosselin's finger and wondered if she was married or engaged.
Gosselin had been spotted flaunting her extravagant jewelry in the past as well. But despite considering the accessory to be a mere style choice, followers believed that Gosselin may have gotten engaged.
"So, here's what 43 looks like.... sigh. My kids (and our friends) took me out to dinner and ordered me a surprise dessert... and sang loudly to me! It was super fun!"
Kate Gosselin, Instagram, March 28, 2018
Gosselin expressed her thanks to her children and her friends for making her 43rd birthday a memorable one. She had a small cupcake with a lighted candle on it as she posed for her birthday photo.
Gosselin concluded her post with a couple of hashtags, #BestBirthdayPresentEver and #LoveMyFamilyAndFriends.
One follower, Shell Renee, noticed that Gosselin had worn a total of three rings. The ring finger on her left had two rings while the one on her right had sported one ring. This gave rise to the suspicion that Gosselin was either married or engaged.
Another social media user, Carole Murie, curiously inquired Gosselin if she had remarried after congratulating her on her birthday and complimenting her rings.
Gosselin made her mark into the reality scene after her 2007 reality show Jon and Kate Plus 8 was successful. The show documented the couple's journey along with their eight children.
Gosselin and her husband, Jon, are parents to 17-year-old twins, Cara and Madelin, and 13-year-old sextuplets, Joel, Collin, Hanna, Leah, Aaden and Alexis. The dup broke off their marriage in 2009.
Please fill in your e-mail so we can share with you our top stories!