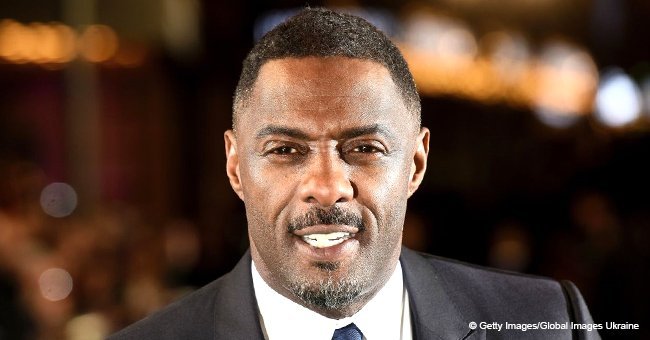 Idris Elba can't keep his hands off his gorgeous fiancée who stuns in skintight silver dress
- AmoMama has learnt from an Instagram upload by Sabrina Dhowre that her man Idris Elba is crazy about her.
- The upload expressly reveals that the actor's interest is not only on his woman's personality but also on her physique.
- The pair have on many occasions showered love for each other; here is also a cute statement by Sabrina.
Falling in love has been described by psychologist as having an intoxicating ability.
One person whose recent actions do a whole lot in buttressing this view is Idris Elba.
The 45-year old can't seem to get enough of his woman nor take his hands off her just as drunks can't take their hands off the bottle.
A recent upload by his fiancée, Sabrina Dhowre has the father of two filled with excitement as he poses close-up to his woman.
The 29-year-old Sabrina in the upload was dresses in a skintight silver dress which did a poor job in concealing the skin of her gorgeous body.
The dress which stopped just below her knee was complemented by the simple heels she had on her feet.
The model had her face inches away from that of the producer and actor as she made to plant a kiss on his.
Idris who was dressed in cute grey suit had a wow expression on his face as he gave off a broad smile that proclaimed his overwhelming excitement.
One notable gesture by the star is his left hand which was firmly planted on his fiancée's butt as he finds her alluring.
The upload by the model comes with the caption;
'Me: Did you swallow magnets babe? Because you're really attractive…'
Her caption has suggested that Idris is not alone in this show of love as she also finds him irresistible.
Sabrina who was crowned Miss Vancouver in 2014 and the 'Golden Globe Award for Best Actor – Miniseries or Television Film' winner started dating in 2017.
Earlier this year in February, the pair got engaged after Idris popped the big question live on-stage during the screening of Yardie; his new movie.
Sabrina gave a 'YES' to his question with overwhelming joy.
What are your thoughts about this couple?
Please fill in your e-mail so we can share with you our top stories!