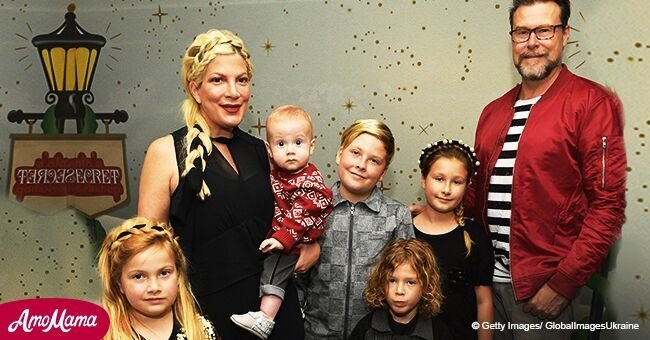 Torri Spelling celebrates Easter with family amid series of scary breakdowns
Tori Spelling set aside her problems as she celebrated Easter with her family at Westlake Village Inn last Sunday.
While Tori Spelling suffered a mental breakdown just a few weeks ago, everything is back to normal in her household as previously shared by The Daily Mail.
The heiress and daughter of late TV producer Aaron Spelling sported glasses, brown cowboy boots, and a white floral frock and matching belt.
While dining at Black Bear Diner in Tarzana just last month, Tori and her husband Dean McDermott were escorted out when police were called in to the scene.
This came a day after the Canadian 51-year-old dad called the police to check on Tori's 'well-being' after she 'took off with at least one of their kids'.
And just days before that call, Dean yet again called the police saying that Spelling 'suffered a breakdown' and was being 'aggressive'. However, after being visited by the police, it seemed she didn't 'meet the criteria to be held for a mental evaluation'.
Setting all their 'mental', legal, and financial problems aside, the couple enjoyed the Easter festivities with their family, and the 'RuPaul's Drag Race' guest judge's stylist Seth Chernoff.
Prior to their outing, Tori hosted a simple Easter egg hunt for her four eldest children, Hattie, 6, Stella, 9, Liam, 11, and Finn, 5, at their Thousand Oaks home.
"Are you ready McDermotts?" she asks her children in an Instagram video.
"Easter 2018. On your marks, get set, go!"
Even their youngest child, 13-month-old son Beau, joined in on the action, holding on to two Easter eggs while staying inside his Batman walker.
Please fill in your e-mail so we can share with you our top stories!