Paris Jackson, 19, shows off her slender figure as she sports an off-the-shoulder top
She is her father's daughter indeed as she isn't afraid to be her own unique self. She proved just that when she stepped out for lunch in a hippie chic look.
Paris Jackson went out for lunch on Monday in West Hollywood in a hippie chic outfit. Read more details as AmoMama gathered info from Daily Mail.
The model donned a braided headband, a John-Lennon inspired glasses, green-hued slouchy sweater, and a pair of Doc Martens. Her friend, Charlie Oldman, who is actor Gary Oldman's son, joined her.
They both sat down for Italian cuisine at Mauro's Café at Fred Segal's. The two parted ways with a quick embrace before she hopped into her soft top Jeep Wrangler.
While walking through the parking lot, the 19-year-old activist held a cigarette and a tiny Louis Vuitton backpack that was slung over one shoulder. For original photos, see the Daily Mail article. 
She has been rumored to be going out with actress and fellow model, 25-year-old Cara Delevingne when the pair were spotted lip-locked in Los Angeles a few days ago. A source disclosed to The Sun that there was definitely a spark between them.
"They really hit it off at the MTV Movie and TV Awards in Los Angeles in May [2017] and have been hanging out since…Cara is quite enamored by the fact Paris is the daughter of one of her musical heroes."
Kiss kiss! Paris Jackson and Cara Delevingne spark dating rumors: https://t.co/437BcIsv9R pic.twitter.com/kgukeALSXg

— ExtraTV (@extratv) March 31, 2018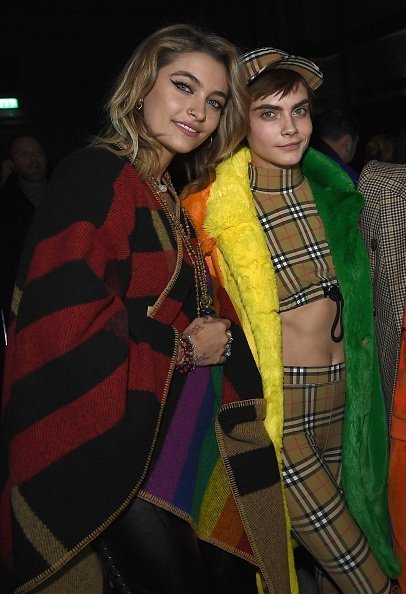 But neither of them made a statement about their relationship status. Paris made it clear though that she is not the one to ask about love. When she was asked by a fan how she knows when she is in love with someone. Paris answered:
"I feel like you just know right? If you second guess it or you doubt it, it's probably just infatuation, not love. I don't know I'm 19."
Sound off and let us know what you think of Paris and how she beats to her own drum.