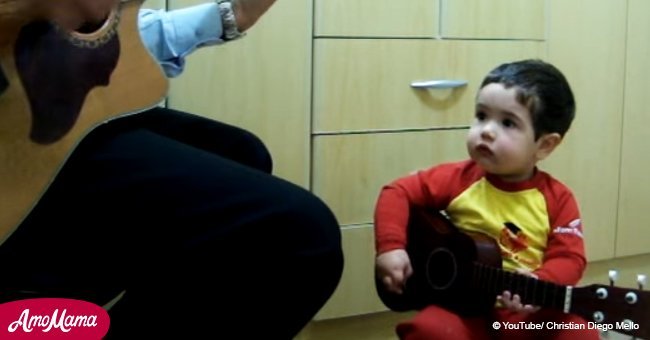 Dad starts to play Beatles classic on guitar. But pay attention to his little son
When a father has a great musical talent, it is highly likely that his young child would as well pick up a few skills.
A video went viral on the internet, which sees a father strumming away The Beatles classic Don't Let Me Down on his guitar, while he is joined by his little son with his own tiny guitar.
According to Happiest, the young boy seemed to be 'in total awe of his father' as he accompanies him in playing the iconic song by the legendary band. By the looks of it, the child is one confident artist as he does not shy in the spotlight.
In the video, the father and son each take turns to sing out a line of the chorus. The video is really adorable and fills your heart with joy. One can immediately see why the content has gone viral on the internet.
So far the adorable and quite impressive video has been viewed over 12 million times on YouTube, the source suggested.
The duet has been well received by the several fans on the YouTube as well as all over the internet. And it seems like young Diogo is already well on his way to a career in the entertainment industry.
It was further hinted that the young child, Diogo, might have a great future in music and, without a doubt, his father would be one-hundred-percent behind him.
Coming across child prodigies and unexpected talents is pretty common in the internet. But from the comments that people have showered in the YouTube account of the video, it is quite clear that everyone feels this father-son duet is something special.
Many have complimented the great voice of the father, while others praised the enthusiasm of the young child. Some commenters even went as far as to state that the duet had made John Lennon proud.
Please fill in your e-mail so we can share with you our top stories!