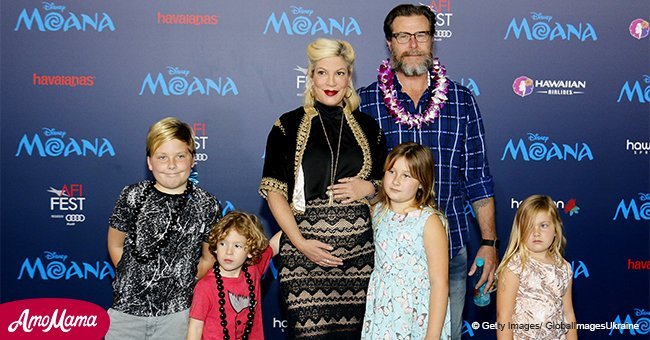 Tori Spelling is seen with her hubby and five kids as they spend family time on a ski vacation
After a series of run-ins with local police, Tori Spelling seems to have gotten back on track as she spent the weekend on a ski vacation with her family in Mammoth, California.
The TV personality, 44, enjoyed hanging out on the slopes with her Canadian husband Dean McDermott, their one-year-old son Beau, and their older children Finn, 5, Hattie, 6, Stella, 9, and Liam, 11.
Dressed to impress, the beautiful blonde wore an oatmeal heather sweater while she carried Beau in her arms. Her hair was left flowing, tucked under a cap made to warm her from the snow. She shielded he eyes with a pair of sunnies.
Her husband Dean was also all smiles as he enjoyed a ride with Beau, who was covered in an adorable printed navy jumpsuit.
The older kids enjoyed their time snowboarding and playing in large snow piles, while their parents looked on with approval.
While the family seemed to be having a great time during their quick out of town trip, it was a different scenario earlier last month when a group of officers escorted the family out of Black Bear Diner in Tarzana, California.
It seems there was a fight between Tori and Dean that was photographed by other diners, despite the very busy restaurant. Seeing that things were not going to be fixed right away, police were called. After they defused the situation however, they left the scene.
Life at home has not been very good for the family as well, after a neighbor called 911 after hearing troubling sounds coming from their household. A few days after, officials were also called by Dean to check on Tori who left the house for a check up with one of their children.
Unclear why Dean had to check on his wife while out on a doctor's appointment, the police spoke with Tori inside the doctor's office who assured them that she and the kid were fine. After that confirmation, everyone was good to go.
Please fill in your e-mail so we can share with you our top stories!