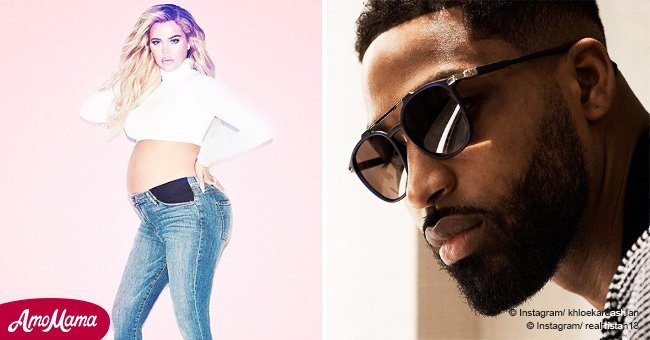 Why are some fans glad about Khloé Kardashian and her boyfriend's cheating drama?
Khloe Kardashian is devasted by the photos of her boyfriend, Tristan Thompson, doing the rounds.
Thompson, 27, was spotted on April 10, 2018, at PD-D in New York with model Lani Blair. The duo enjoyed their evening out.
As reported by Lifestyle Mag, Khloe reached out to her sisters and mother for support. They are furious because Khloe's baby is due any time now and she doesn't need the added stress.
However, not all of her fans are as supportive as her family. According to Lifestyle Mag, fans are telling her to name her baby Karma.
As it turns out, Thompson started dating Khloe in 2016 after his ex-girlfriend, Jordan Craig, announced that she was pregnant.
Many of his fans and supporters feel that Khloe is a 'man-thief' and is only getting what she deserves. Some are even glad that the same thing is now happening to her.
Several of them voiced their opinions on Khloe's Instagram feed. Souekolo Paule simply said 'karma, bae.'
Savannah from Atlanta noted that 'you lose them how you get them,' and reminded Khloe that 'karma favors none.' Another asked 'how does karma taste?'
Not all of the comments were as harsh. A user known only as Tesa said that Khloe always ends up being humiliated, and she hopes that the socialite will find the 'right man for her.'
Corri McFadden reminded Khloe to stay focussed on herself and wished her 'peace and calming energy in these last days before' her baby joins the world.
Thompson has since been nicknamed as Third Trimester Tristan, for leaving Jordan during her third trimester, and possibly cheating on Khloe during hers.
The source close to the family said that Khloe would break up with Thompson if she can confirm that he cheated on her. For now, her family just wants her to focus on the pregnancy.
Please fill in your e-mail so we can share with you our top stories!