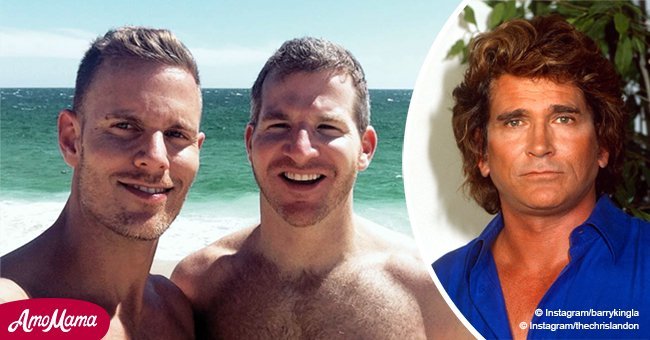 Michael Landon's gay son and his hubby show their cute baby boy in new adorable photos
Although homosexuality is no longer such a taboo subject, at least in most parts of the world, there are still people who believe that gays and lesbians shouldn't have the same rights.
Those rights include marriage and child adoption, but being gay doesn't make someone an awful husband or wife and, especially, parent. Chris Landon proved just that in 2017, when he introduced his baby boy, Beau, to the world.
Beau Landon Morris, as the filmmaker and his partner, Cody Morris, decided to name him, brought quite a lot of happiness to the couple, as reported by Gay Star News.
Chris took to his Instagram page to share the wonderful news with his fans and followers. He posted a photo of Beau peacefully sleeping while wrapped in a sheet with giraffes print on it.
The 42-year-old was so proud that he described the baby as the light of the couple's life, and he warned everyone to get ready because he was going to start posting more and more pictures of Beau.
According to the source, Chris has reached a very comfortable spot in his life. Not only did he find the love in Morris and Beau, but he also achieved some professional success.
Christopher, son of the late Michael Landon, who was most known for his role on the TV show Little House on the Prairie, publicly confirmed his sexual orientation in 1999.
As reported by Gay Star News, Chris first caught Hollywood's eye thanks to the film Disturbia, which he wrote. He was also responsible for the last three Paranormal Activity movies.
He directed his first movie, Burning Palms, a satirical thriller, in 2010, and was later in charge of directing Paranormal Activity: The Marked Ones in 2014, so he has already left his mark in the film industry.
Please fill in your e-mail so we can share with you our top stories!