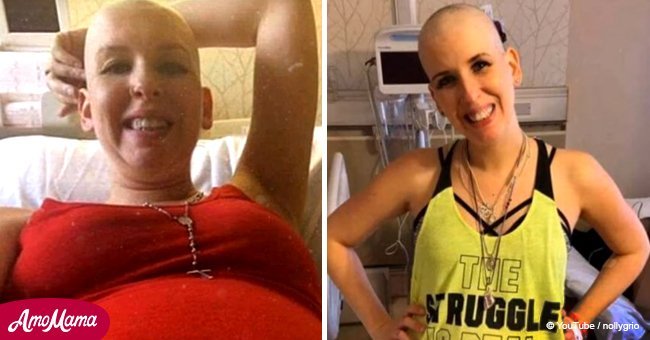 Mom gives birth to twins via C-section. But the day after, she dies from breast cancer
Their children were able to see her beautiful face in the clouds after she passed.
An article published by Liftable shared the story of 30-year-old Jamie Snider, who was a mother, a fighter, and a kind soul.
She was the mother of two girls, Aubrey and Maddy, and was a doting mother despite her long battle with cancer.
When cancer hit her the first time, she ended up losing an ovary. Being the positive person that she was, she considered it a victory, as she was free of cancer even though she lost an organ in the process.
After surviving the first outbreak of cancer, Snider learned that she was pregnant again. She was overjoyed by the prospect of expanding her family.
And the joy doubled when she was told that she was going to be blessed with twins.
However, cancer resurfaced soon thereafter, and Snider was informed that she was suffering from a rapidly spreading and incapacitating form of cervical cancer.
This devastating news did not stop Snider from being grateful for her pregnancy, even as she continued to battle the illness.
The chemotherapy sessions were extremely heavy and intensive, and Snider put all her strength and willpower into the prospect of recovering.
Even in that tough phase, she kept herself busy caring for her daughters and the babies that were about to arrive.
After extensive treatment, the Stanford Medical Center was thrilled to inform her that she beat the disease again.
Given the complications that could arise from the aftermath of cancer, the hospital staff decided to arrange for a C-section in the 33rd week of Snider's pregnancy.
The radiant mother also shared a picture of herself on social media the night before the operation. The surgery was successful, and Snider was blessed with two hale and hearty babies.
She spent the night cherishing the two new members of her family. However, her condition unexpectedly worsened the following day. Before long, her heart failed and she breathed her last.
Snider's close friend Larina Campanile shared that Snider was a beacon of love and hope in the lives of everyone who knew her.
She expressed her gratitude that Snider was at least able to hold her children and spend some time with them before passing away.
While twins Camila and Nico only got to spend one night in the care of their mother, Aubrey and Maddy have several memories of Snider, especially her unforgettably charming smile.
The girls shared that at Snider's memorial service, they were able to see the clouds in the sky forming her smiling face.
Please fill in your e-mail so we can share with you our top stories!