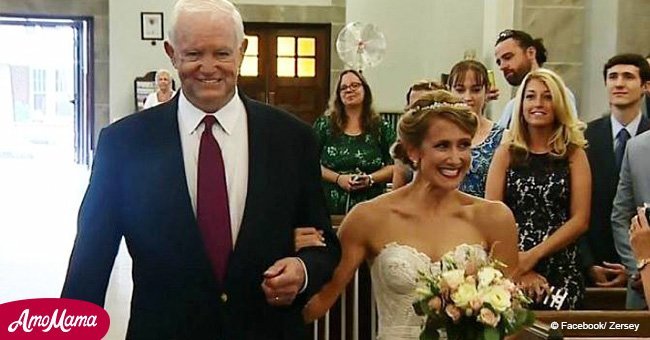 Bride's dad murdered before her wedding. But she feel his pulse, walking down the aisle

After his successful heart transplant, a man attends the wedding of the daughter of the man who donated him his heart.
Jeni Stepien's father was killed during a robbery, following which, his family donated his heart to another person in need, Arthur Thomas
According to Goodfullness, Thomas, who was only days away from his death got a chance at life because of Michael's heart, which was transplanted into him
After the successful transplant, Thomas made a mental note to himself that he would reach out to the family and express his gratitude toward them.
After reaching out to them for the very first time, Thomas and Michael's family grew closer and they remained in regular correspondence, reaching out through email, monthly calls, as well as letters.
Finally, when Stepien's big wedding day arrived, she made an emotional decision. She decided that she would ask Thomas to walk her down the aisle on her special day.
"One of my first thoughts in that following week was, 'Who will walk me down the aisle? I was thinking, 'Oh, my gosh, it would be so incredible to have a physical piece of my father there,'" the source quoted Stepien as saying.
She immediately sent a letter asking Thomas to walk her down the aisle on her wedding day. Thomas decided he wanted to take the permission of his 30-year-old daughter, Jackie, before agreeing to it.
Fortunately, Jackie was absolutely delighted by the prospect. She gave her permission by stating that it was a "wonderful idea."
Stepien finally met Thomas just a day before the wedding ceremony. Thomas even asked her to grip his wrist so that she could feel his pulse more clearly.
He explained that Stepien would feel closer to her father that way because it'd be her father's heart beating on her special day.
Please fill in your e-mail so we can share with you our top stories!