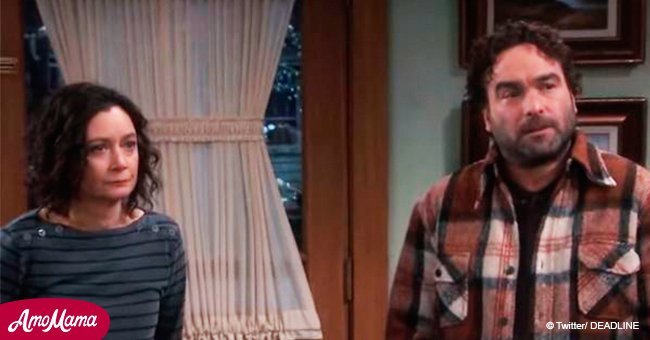 Sara Gilbert explains David's return and opens up about his possible future on 'Roseanne'
When the reboot of Roseanne was announced, many fans were sad when Johnny Galecki didn't reprise his role as David in the pilot episode.
Galecki joined the show in January 1992 during the fourth season as David Healy; first as Darlene's boyfriend and later as her husband. More recently, he is known as Leonard Hofstadter from The Big Bang Theory.
Please note that this article contains spoilers from the 5th episode of season ten, Darlene v. David.
As reported by Inquisitr, Sara Gilbert said she was happy to have Galecki rejoin the cast, even if he only showed up during the 5th episode of the 10th season, in a guest role.
Not only does Gilbert portray the part of Darlene, now a mother-of-two, she is also one of the executive producers on the show.
'Our relationship was one of the central themes of Darlene's life 20 years ago. And to leave it unanswered would be so unsatisfying to me personally and to the fans.'
Sara Gilbert, TV Line, April 17, 2018.
She admitted that it was hard to fit their history into a 22-minute episode, opening up the possibility that Galecki could return later during the show.
His appearance on the show was kept a secret, and fans only got the first glimpse of David as he snuck into Darlene's room, just like when they were teenagers.
Gilbert jokingly remarked: 'It was so great shooting that scene. I just thought, "The audience is going to lose their minds when I pull these curtains back, and they see David."'
She wasn't wrong. Fans took to social media to express their joy. On Twitter, a user known as Emma said she loves the couple so much, she wants Galecki to return permanently.
Another user, Dan R, remarked that the episode was 'simply awesome,' and added that David's returned 'really tugged hard those heartstrings.'
Not everybody was as ecstatic. Laurie Small was disappointed in Johnny Galecki for being part of the reboot, due to the creator, Roseanne Barr's, political views.
Barr is a Trump supporter, and the show touches on the tension in a family where members voted for different parties.
Please fill in your e-mail so we can share with you our top stories!