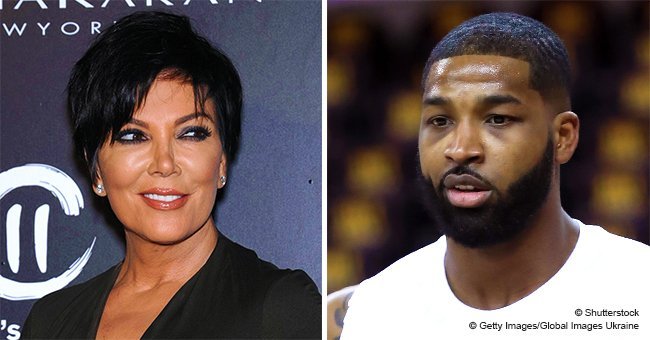 Kris Jenner reportedly makes Tristan Thompson sign $10 million contract after his alleged cheating
- AmoMama has just learned from Hollywood Life that momager Kris Jenner reportedly forced Tristan Thompson to sign a multi-million dollar trust deal.
- This is supposed to be a saving grace in case Tristan Thompson decides to opt and leave Khloe Kardashian in the cold.
- None of Tristan Thompson's representatives have commented on the deal.
Just over a month ago, Tristan and Khloe were a happy couple waiting for Khloe to give birth to their daughter together.
Things, however, can change very fast in Hollywood and they certainly switched up after Tristan Thompson was caught cheating with his pants down.
A video surfaced of the basketball star playing around with a woman who was definitely not Khloe.
Since then Khloe Kardashian has given birth to baby True and reports have it that herself and Tristan are working on things.
That apparently is not assurance enough for the all-powerful Kris Jenner.
According to reports coming out of the Kardashian camp, she made Thompson sign a contract requiring him to put $10 million in a trust for his and Khloe Kardashian's daughter.
That isn't all as there is also a fail-safe in case the tall Cleveland Cavaliers player is found with his hand in the cookie jar.
An insider says that there's a clause in the legal agreement that requires him to add an additional $10 million into the account any time he's caught cheating from here on out.
Are these reports true?
Numbers don't add up as Tristan Thompson is reportedly worth only twenty million dollars.
He also has an annual salary of fifteen million dollars but is that enough to put half of what you own in a trust for a baby?
That's not even factoring in the $10 million that needs to be added any time the alleged serial cheater is caught being unfaithful to his girlfriend.
Well, with business savvy Kris Jenner, anything is possible.
The source who leaked the news also said to Hollywood Life,
'She's been through it all with her girls, and at this point, she knows exactly how to take control, no matter the situation'
Perhaps this is one of such situation.
Tristan's representatives have not been available for comments regarding this case.
Do you think Tristan would sign such a contract?
Let us know in the comments below.
Source: Hollywood Life
Please fill in your e-mail so we can share with you our top stories!