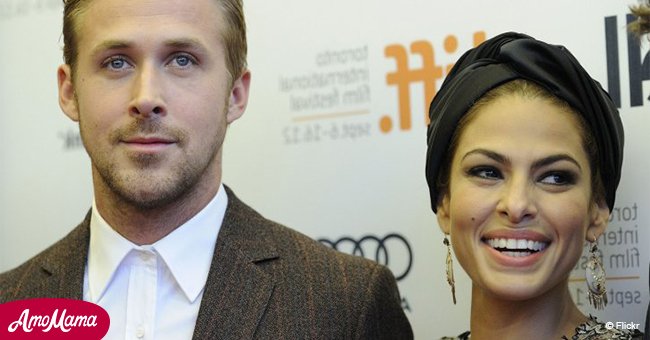 Ryan Gosling and Eva Mendes are reportedly expecting baby #3 after she was spotted with a small bump
Ryan Gosling and Eva Mendes have been together for over six years but still manage to keep their lives so private. AmoMama brings you details of their life together as reported by Glamour Magazine.
Ryan Gosling and Eva Mendes have been together for over six years and together they have two beautiful daughters. A rumor that is yet to be confirmed says that could be expecting their third. They keep their relationship so private, maybe in a bid to protect their children from the madness that goes on in the public eye. Whenever they are out together as a family, they stay out of the way of the cameras and manage to live a normal life, which is admirable.
During an interview with People Chica Mendes talked about her daughters being of different cultural backgrounds. "Esmeralda (eldest daughter) mostly speaks Spanglish right now. It's really cute. She's definitely bilingual, and it's really important for us to make sure that she's not only just familiar with the language, but also with the culture."
Mendes emphasized on the need for her girls to know their Cuban roots as well as their American roots. She said her dad had been in the States for 45 years but still didn't speak the language as his roots were an asset for him. The actress relies on her mother, whom she said lives 15 minutes from her house, to teach her children their Cuba roots and culture.
"Being Cuban and being raised in a very typical Cuban household influences everything I do. My mom and two sisters—us four girls—all have completely different body types, and I love that about Latin culture. Under this beautiful umbrella of being Latin, are many shapes, colors, and sizes. I grew up with everyone looking so incredibly different from one another. It's part of my heritage and culture to embrace all different kinds of body types."
The star is also making clothes in her New York & Co for all body sizes. "Creating clothes available to women of a variety of body types is really important to me," she said.
We are yet to know for sure whether the star and Gosling are expecting a third child together, but we still love the family they have created.
Please fill in your e-mail so we can share with you our top stories!