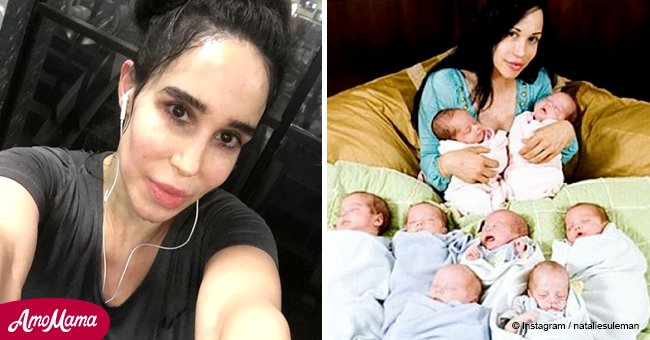 Natalie Suleman's children are all grown up. 'Octomom' shares their sweet photos

Natalie Suleman, who became famous in January 2009 after giving birth to octuplets, has now fourteen children.
As most proud mothers do, she frequently shares photos of them on social media showing her almost 40,000 followers how big they are. One of the most recent pictures of them showed the siblings during a play.
According to Celebrity Insider, Suleman was in the middle of the spotlight when she gave birth to her eight children all at once. The fact that attracted more attention was that they were conceived via in vitro fertilization.
Since the doctor who treated her deliberately implanted 12 embryos in her uterus, which resulted in the very unusual and dangerous pregnancy, his license was revoked and he can no longer treat anybody else.
Suleman was also a target of people's backlash as they said she was not ready to become a mother of eight. Apart from that, they pointed out it was a health risk too high to be taken.
Things got out of control as Suleman even received death threats, which led many security companies to contact her to offer their services for free. There were many reasons that made people think she couldn't take care of fourteen children.
The most relevant ones were that she was single and unemployed. In 2012, she got backlash again when it was revealed that she was on public assistance.
While things have not been easy at all, she admitted she wouldn't change anything about her life. In 2013, Suleman chose to live a more private life as she was not living in her 'value system.'
She started studying counseling and, nowadays, she is a successful family therapy counselor. Not only is she happy with her job but also she makes enough money to take care of her children.
Every aspect of her life changed as she is raw vegan now. Suleman often shares recipes and workout routines on her Instagram account and confessed 8 of her 14 children are vegan, as well.
Please fill in your e-mail so we can share with you our top stories!