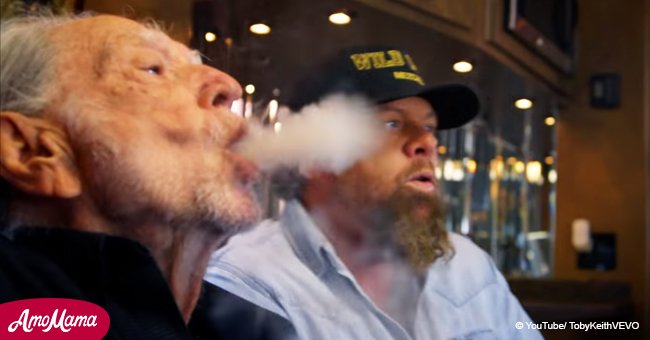 Toby Keith gets high with Willie Nelson in new 'Wacky Tobaccy' video
His signature southern humor did not miss a beat in the song about the infamous plant.
As reported by Country Music Nation, Toby Keith mentioned getting high on weed in his humorous single Wacky Tobaccy that was released in June 2017.
Another famous country musician joined Keith in the music video of the song. The iconic Wille Nelson, who was the subject of Keith's rave song I Will Never Smoke Weed With Willie Again, was seen playing his guitar in the video.
Keith filmed the hilarious music video for the song inside his tour bus with his band members as the country legend entered from the bathroom surrounded by a cloud of smoke.
Nelson joined the bandmates as he immediately started strumming his guitar while the team enjoyed devouring a pizza and some chicken wings.
Keith co-wrote the song with his longtime pal and collaborator, Scotty Emerick, and shot the video in the form of a series of their 'bus songs.'
According to The Music Universe, the 56-year-old singer said that Wacky Tobaccy has been a slogan that has been around for years but no one has ever put it in a song.
Keith said that he was glad to get Nelson for a cameo in the music video that was shot in Nashville. He revealed that he and Nelson shared a longtime friendship and felt fortunate to get him onboard with the music video.
The singer-songwriter mentioned that the song fits in with everything that people do when they party. Keith admitted that he loved playing humorous songs for military personnel on his USO tours.
He found peace in the fact that he could bring smiles to the famous of the soldiers across the country who strive to serve and safeguard the country.
In May 2017, Keith was awarded the Poet's Award by the Academy of Country Music for his outstanding musical and lyrical contribution throughout his career as a songwriter.
Please fill in your e-mail so we can share with you our top stories!