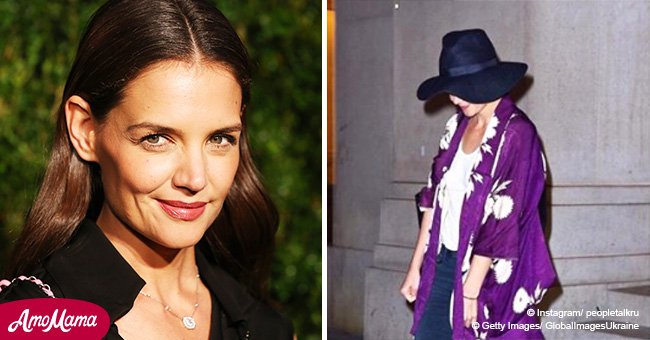 Katie Holmes seen in a stylish outfit while leaving restaurant after secret date
The actress looked quite different when she was spotted on a date with Jamie Foxx. She wore a violet and white ankle-length wrap to be incognito.
She was seen at the restaurant on April 22, 2018. Daily Mail reported that Katie Holmes and Foxx ended up leaving the venue separately.
On Tuesday, Katie Holmes, 39, was seen looking laid-back as she went on a walk in New York City. She kept a low profile in a blue large brimmed hat and dark sunglasses.
Holmes wore a green turtleneck sweater that boasted tan elbow patches to ward off the cold. She looked simple in blue denim jeans.
Her accessories were a pair of light brown suede half boots and a luxury leather handbag. Meanwhile, E! News reported that the actress and Foxx, 50, were seen enjoying a 90-minute dinner date at Nobu on Sunday where, she again, looked like she was trying to hide.
The pair left the establishment at the same time but through different exits. Holmes wrapped up in a lightweight violet floral print coat that flowed against her body.
'They still plan to keep their relationship private.'
The star showed off her slender legs in a pair of dark blue skinny jeans. She added a casual touch to her outfit with a loose white top and a floppy black hat.
Her outfit was comfortable but definitely meant to be low-key. Holmes height was accentuated with black lace heels that completed the look.
Foxx hid nothing as he stood out in his flashy red jacket, bold trousers, and boots. He was glued to his phone as he made his exit from the restaurant.
'This is what has worked for them and what they are comfortable with. They aren't a couple who is going to stroll down the street holding hands,' an insider shared about the couple's relationship.
On Wednesday, Holmes shared a picture of her daughter Suri Cruise. The preteen was celebrating her 12th birthday on Wednesday.
Her father is Tom Cruise, to whom the actress was married from 2006 to 2012. The little girl has two older half-siblings from her father's previous marriage to Nicole Kidman.
They are 25-year-old Isabella and 23-year-old Connor who were both adopted. Suri was also recently seen with her mother as Holmes filmed her new Fox FBI drama in Chicago.
The show which was formerly titled Mrs. Otis Regrets follows FBI Special Agent Hazel Otis (Holmes) who's in the midst of investigating a domestic terrorism threat. A personal indiscretion, an affair with a prominent general, shatters her life and threatens her career at the FBI.
This would be Holmes' first series-regular role since Dawson's Creek concluded after six seasons in 2003.
Please fill in your e-mail so we can share with you our top stories!