Halle Berry, 51, looks absolutely ageless as she flaunts her toned legs in a mini tuxedo dress
The actress stuns during a recent red carpet event and proves she's still got her Bond girl appeal. 
Halle Berry was a natural stunner when she arrived at the Matrix Awards in New York on Monday.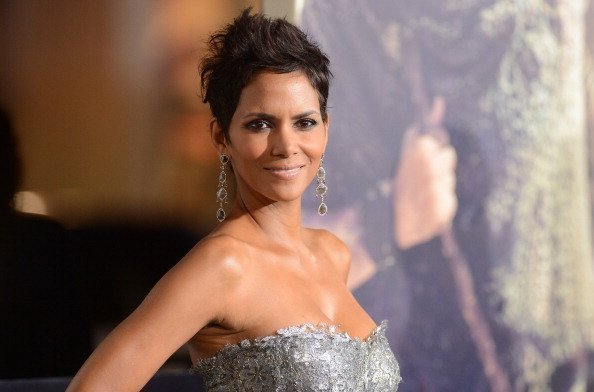 Dressed in a pale blue pinstripe mini tuxedo dress, the 51-year-old clearly defied her age as she revealed a pair of fabulously toned legs in her recent outing. 
According to an article by the Daily Mail, the former Bond girl was one of seven women who were honored during the annual event led by the New York Women in Communications, a non-profit, networking organization for women in communications. Hosting the event was Today Show's Savannah Guthrie.  
Berry's recognition comes in the heels of her recent involvement in sexual harassment allegations against her former manager Vincent Cirrincione. Nine minority women had come forward accusing the Hollywood manager of making sexual advances towards them in exchange for the promise of a flourishing career. To entice the women, he would cite his role in Berry's success as his benchmark. 
Furious upon hearing about her former manager's dealings and dragging her name into it, the actress came out with a statement condemning him and his actions. 
"Yesterday I was saddened by the alligations against my former manager, Vincent Cirrincione, but today I'm sick after reading the horrifying detailed accounts of his abuse towards 9 women.
"I'm livid that he used me, and the role model he helped me become, to lure and manipulate innocent, vulnerable women of color for his predatory actions. I'm deeply hurt and I want these woman and countless others to know I see you. I hear you. You matter. I will fight for you."
In response to the accusations, Cirrincione delivered a statement denying any wrongdoing and insisting all relationships were consensual. 
"We live in a time where men are being confronted with a very real opportunity to take responsibility for their actions. I support this movement wholeheartedly. I have had female clients and employees my entire career in this industry. I have built a reputation for advancing the careers of women of colour. I have had affairs while in committed relationships, ones I am now ashamed to say are coming to light and shading my past and my reputation. I can say without a doubt that I have never used favours, sexual or otherwise, as a reason for managing anyone. I want to make it clear that not one of those relationships were anything but consensual.
"I take responsibility for my part in the situation and I am not here to diminish anyone's feelings or experiences. I apologise to these women, my past and present partner, my clients and employees for the pain this is bringing them. I was under the impression I was living my life as a supportive man to women. It is with a heavy heart that I see now I was wrong."
No longer under Cirrincione's management, Berry is set to star in the remake of the 1985 film 'Jagged Edge'which was then topbilled by Glenn Close and Jeff Bridges.  The movie which earned Robert Loggia an Oscar nomination for his role as a private detective centers around Bridges' character, a wealthy publisher, who hired Close as his lawyer to defend him against accusations that he murdered his own wife in a remote beach house. In the course of their professional relationship, Bridges and Close's characters have an affair. 
The remake which is now in its early stages of development will be produced by Matti Leshem and Doug Belgrad for Sony Pictures.