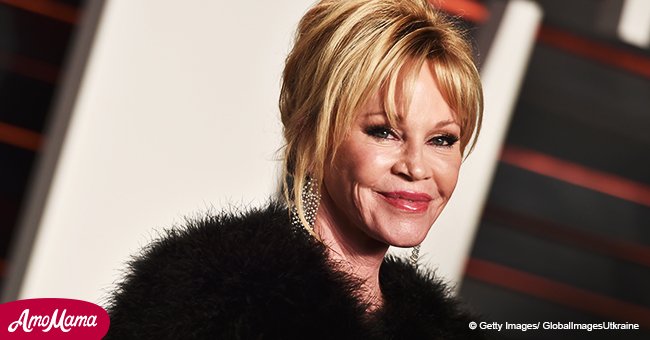 Melanie Griffith wears chic black dress as she embraces gal pal Eva Longoria
The Hollywood icon channels an all-black edgy vibe as she puts on a leggy display while paying tribute to her celebrity friend.
Melanie Griffith rocked an edgy look lending her support for her friend Eva Longoria during her recent induction to the Hollywood Walk of Fame.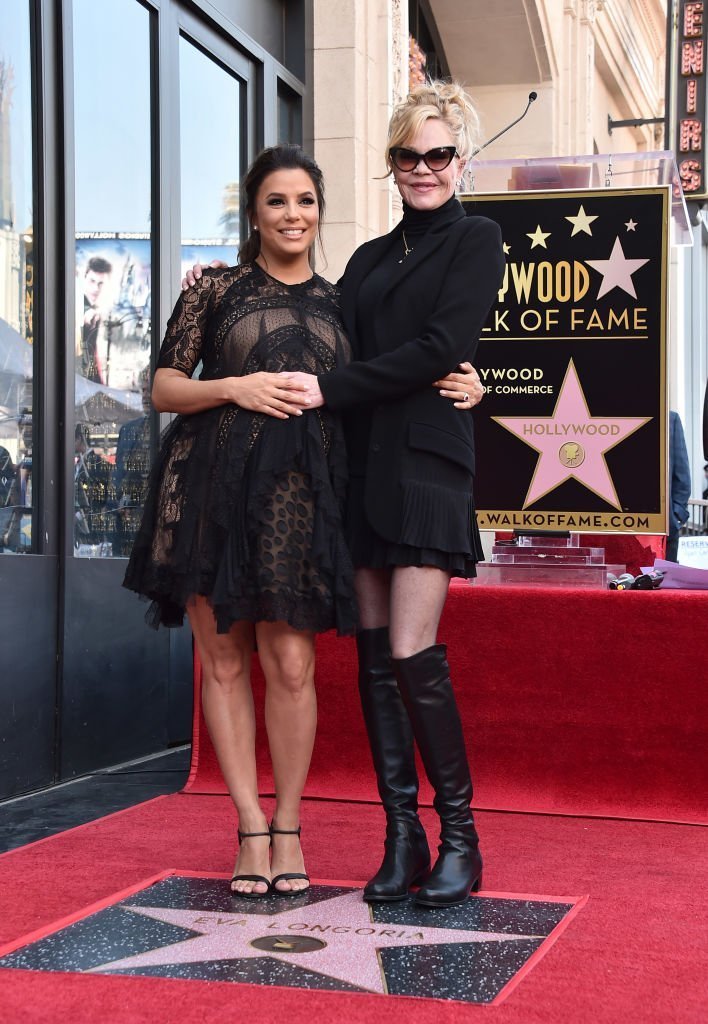 Source: Getty Images / Global Images of Ukraine
Looking chic and sexy in an all-black ensemble, the 60-year-old actress showcased her enviable physique which she keeps fit training four times a week apart from hot yoga, according to the Daily Mail.
Wearing a black blazer over a black turtleneck sweater, she completed her monochromatic outfit with a black mini skirt and thigh-high leather boots highlighting her still gorgeous legs. She tied up her signature blonde hair in a messy bun and wore a pair of sunglasses achieving a Hollywood vixen vibe.
The actress delivered her impressive appearance at the Hollywood Walk of Fame where her friend Eva was being honored. In photos from the event, the pals were captured in a tight embrace revealing the strong bond they have.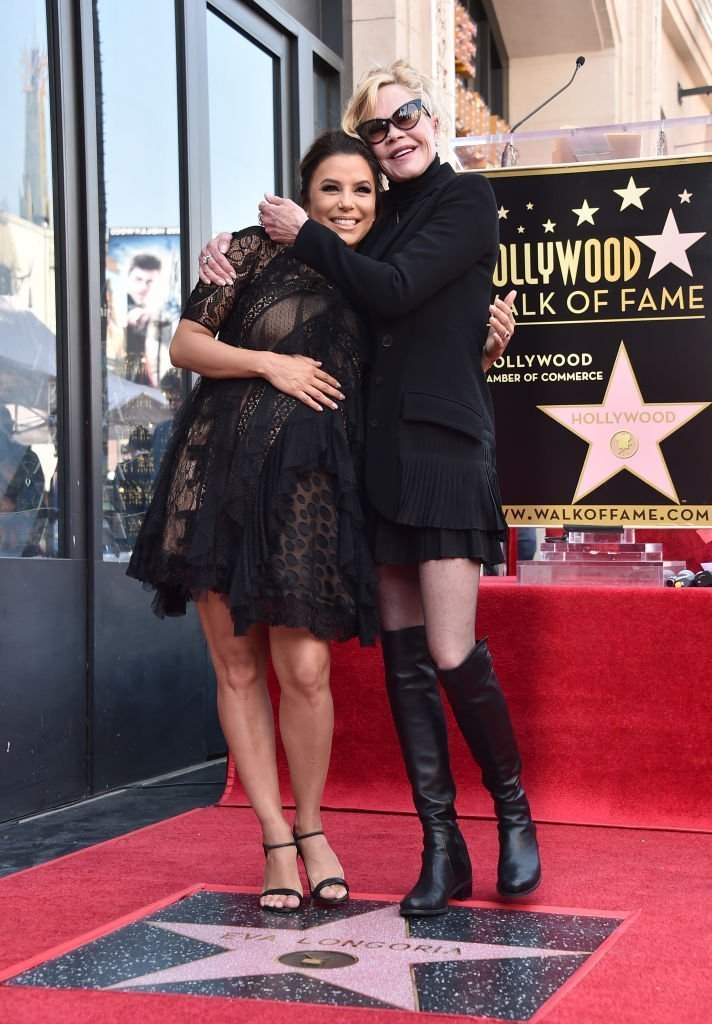 Source: Getty Images / Global Images of Ukraine
Melanie shared her joy over her friend's recent accomplishment by taking to Instagram to congratulate the pregnant star. Posting a video of the petite star receiving her award, she wrote,
"My dearest friend @evalongoria received her star today!! Bravo Eva!! You are the most beautiful!"
She also shared a group photo of Eva and herself along with fellow well-wishers Ricky Martin and Victoria Beckham which she captioned,
"With Eva on her star day!"
Still sporting a scar on her nose from having a basal cell carcinoma removed from her face in September, the mother of three was joined by other celebrities who came to honor Eva including Kerry Washington, Anna Faris, Felicity Huffman, William H. Macy, and Olivia Munn.
The former 'Desperate Housewives' star who celebrates 20 years in the industry expressed her gratefulness for the recognition she was getting, admitting it was a dream come true in a post she shared that day.
"Receiving my star on the Walk of Fame is an honor I can't even believe I'm going to experience! Can't wait to join all the legends and even more so, can't wait for all of y'all to go and visit it!"
Many celebrities have been fortunate enough to receive a star on the famous sidewalk, each of which are required to pay a $40k sponsorship fee to the Chamber of Commerce.
This year, the Golden Globe nominee received the honor and rejoiced alongside her third husband, Jose Bastion, who's also the father of the unborn little boy she's carrying. The couple were photographed sharing a loving kiss during the event.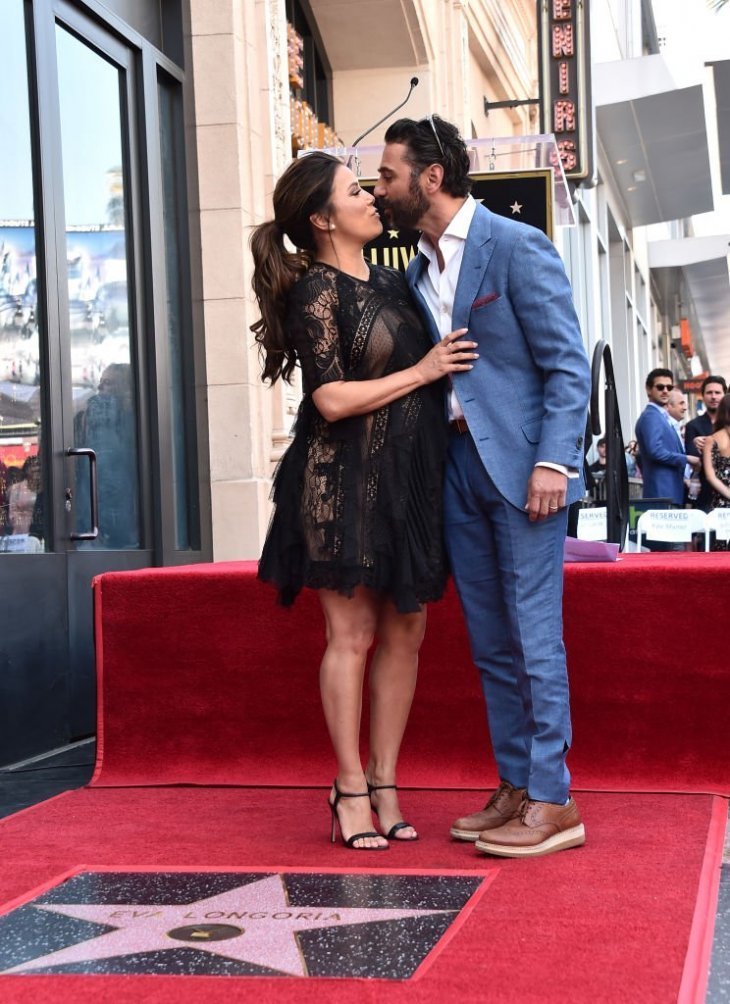 Source: Getty Images / Global Images of Ukraine
While Eva prepares to become a first-time-mother, her good friend Melanie recently revealed to Porter Magazine that she was "a totally functioning mom" despite the fact that she was in and out of rehab thrice.
As a parent to son Alexander, 32, with first husband Steven Bauer, daughters Dakota Johnson, 28 with second husband Don Johnson, and Stella, 21, with third husband Antonio Banderas, the resilient mom proudly disclosed,
"I wasn't like a drunk-on-the-floor, out-of-it person. I didn't do some things I probably should have done, but, mostly, I was there for my kids. They had a sort of privileged gypsy life."
Melanie has just recently concluded her short stint on stage portraying Mrs. Robinson in Laguna Playhouse's production of 'The Graduate.' The show which ran from February 21- March 18 saw the Broadway actress' return to the stage after a long time.
Please fill in your e-mail so we can share with you our top stories!