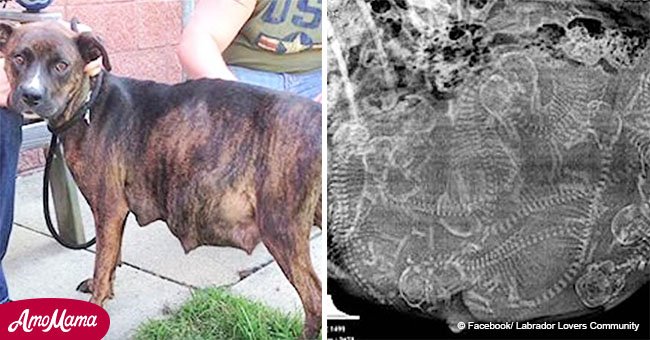 Family adopts pregnant dog so it can give birth in safety. But they did not expect so many
This pit bull was reluctant to go into labor at a shelter.
Shared reported that Storie gave birth to a dozen puppies when Chris and Mariesa rescued her.
With a handful of big rescue dogs to keep at home, some could say Chris and Mariesa had had enough. However, they came across a pregnant shelter dog at their county kennel and fell in love with her.
The couple quickly learned that Storie was pregnant with 12 puppies, but she was reluctant to go into labor.
"Dogs having puppies at shelters – it's not the best thing for them. It's stressful for her, stressful for the puppies," said Chris.
The duo decided to foster the pit bull. They provided her with a safe place where she could deliver and raise her puppies outside the shelter.
Her place contained a comfortable bed and they were prepared to wait for her to go into labor.
They thought that it would be a few days for the puppies to be out after Storie gets familiarized with her foster home. However, they were wrong and something incredible happened the same night she moved in.
It only took a few hours for Storie to get acclimatized with her surroundings. She went into labor hours after being removed from the county kennel.
She gave birth to 12 of her babies 18 hours after she was rescued. It was indeed a miracle that happened just in time.
All the puppies were healthy and within two weeks they started opening their eyes and showed the world their unique personalities.
Caring for an additional 13 dogs is certainly a huge task, but Chris and Mariesa handled it well on their own. However, they thought it best to help the new ones find good homes for themselves.
They also thanked Pibbles and More Animal Rescue for their assistance in looking for new homes where all of Storie's 12 puppies have settled down comfortably.
Please fill in your e-mail so we can share with you our top stories!