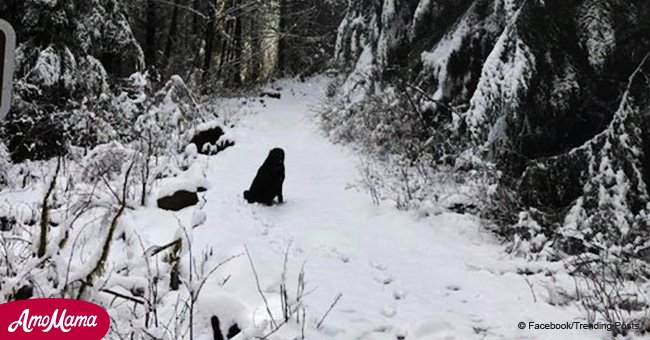 Couple decided to go on a hike but didn't expect to meet dog with note on his collar
Scott Brown, his wife, and their hiking group decided to hike Teneriffe Falls in Washington State and found a new friend along the way.
According to ABC News, Scott Brown from Seattle made a new animal friend while hiking Teneriffe Falls near North Bend, Washington.
The couple spotted something lingering at the trailhead. It was a black dog, who seemed strangely accustomed to the presence of people.
"I made a joke to my wife that it was a bear," Brown told The Dodo. The dog immediately joined the couple when they met up on the hike.
According to American Web Media, the couple wasn't sure what to do with the dog, but Brown just accepted he was going to be with them, as he wouldn't leave their side.
After the group started walking, the dog even took the lead all the way to the falls, proving to be a much better hiker than the Browns.
"He took the lead anywhere from a couple feet to way out in front, out of sight. He would sit and wait for us as we took photos and then continue on when we did," Brown said.
When they arrived at the falls, Brown's friend checked the friendly dog's tags and discovering it wasn't just an abandoned dog on the trail.
'Hi, I'm Smokey, I live nearby so please don't take me. I like to follow hikers sometimes,' read the tag, while on its reverse, it read: 'Don't worry, I'll go home when I get tired. My people love me a lot. Thanks for being nice!'
At first, Brown thought his friend was joking, but when he checked closely, he was sold. The hiker also claimed that Smokey was well behaved, only barking after he climbed down an embankment across the creek.
Smokey then proceeded to escort the group back down, staying with them in the parking lot until they changed out of their hiking gear.
Please fill in your e-mail so we can share with you our top stories!