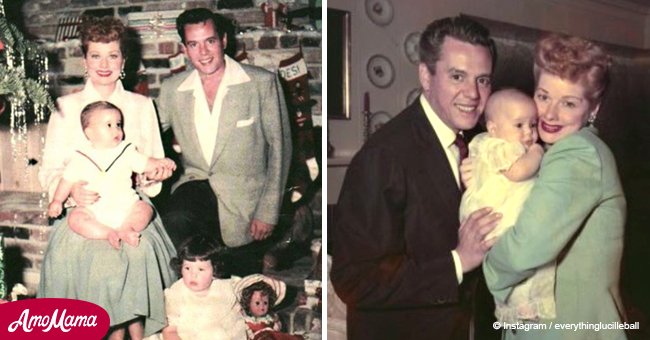 Secret that Lucy and Desi kept in their marriage
Fans of Lucille Ball and the show she starred in with real-life husband Desi Arnaz will be shocked to learn the truth.
I Love Lucy was one of the most successful sitcoms of all time. The black-and-white TV show ran from 1951 to1957 and it made Lucille Ball and her husband Desi Arnaz major stars
The plot centered on a New York couple, Lucy and Ricky Ricardo. Ricky is a successful singer/bandleader, and Lucy is an ambitious showbusiness wannabe whose obsession with becoming famous leads them into trouble again and again.
The Ricardos was portrayed as being desperately in love, and Ricky's patience with Lucy's inevitable catastrophic mistakes was legendary.
Lucille Ball and her husband played the delightful couple, but their own marriage was far from idyllic. The two first met when Ball was 28, and Arnaz 23.
Arnaz was a Cuban-American bandleader, and Ball was an ascending star in comedy and B-movies. When they met, Ball felt they were not compatible, but they started dating and eventually married.
Arnaz was perpetually dissatisfied, and Ball - a strong, independent woman - went out of her way to try to please him in any way she could. The relationship started to disintegrate by the mid-1940s, mostly due to Arnaz's alcoholism and constant cheating.
Ball filed for divorce, then discovered she was expecting their first child, Lucy. Not long after her birth, they were offered the opportunity to start their TV show,
Arnaz and Ball were forced to present a picture-perfect front to the CBS producers and the network, and soon America was in love with the 'loving' couple.
The true star of the show was Ball, with her brilliant comedic timing and huge expressive eyes, and Arnaz couldn't stand being in second place. He started acting out, and Ball started to read about his brazen infidelities in gossip magazines
Arnaz would later admit to his biographer, Bart Andrews, that by 1956 their marriage was a front, an act perpetrated for the sake of their children, and their audiences. Ball confirmed that for Arnaz the last five years of their marriage was all about 'booze and broads'.
The couple divorced in 1960 and both remarried, but they remained friends and often spoke very fondly of each other. Before his death from cancer in 1986, Arnaz told Ball, "I love you too, honey. Good luck with your show."
40 million Americans still watch reruns of the show each and every year, as do millions more around the globe I Love Lucy is considered one of the greatest and most influential sitcoms in history, and In 2012, it was voted the 'Best TV Show of All Time.'
Please fill in your e-mail so we can share with you our top stories!