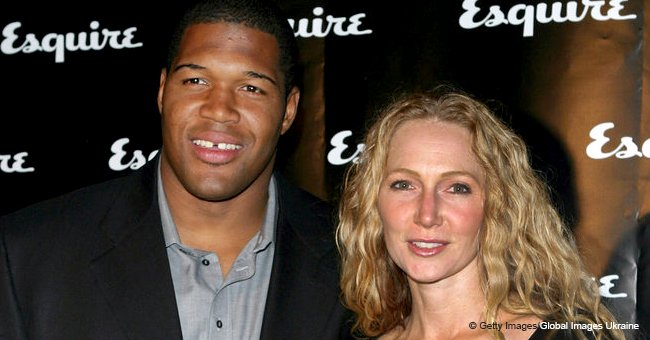 Michael Strahan's wife accused him of violence & infidelity. His dad warned him she'll 'ruin' him
- AmoMama learned from 'Daily Mail' and 'Post' that Michael Strahan's wife accused him of being a cheater and wife beater.
- His father had predicted the star's wife was going to destroy his life in the same year they got married.
- The Linebacker denied the accusations and somehow his reputation remained intact.
Seven years ago, former New York Giants star, Michael Strahan, was all over the news because his now ex-wife had levelled accusations of abuse against him.
In fact, his second wife, Jean Muggli, had more than just the abuse accusations as she claimed that he also cheated on her and ignored the existence of their children.
And it seemed the new co-host of morning show 'Live!' had nothing to say in his defence…until now.
During an interview with HBO's Real Sports, Michael stated that he didn't lay a finger on anybody nor cheat on Jean, whom he married in 1999.
The duo had met during Jean's days as skincare girl in Manhattan but it didn't take very long before she placed a call to the police to report that her then-husband had threatened to beat her up.
The mother-of-two added that while they were dating, he had beaten her so badly that her kidney had gotten injured.
And as if that wasn't enough, he had made a secret recording of her sister while she was undressing in their house.
Despite the fact that his career and relationship with others remained unaffected by the accusations, we bet the 40-year-old TV personality wishes he had listened to his father.
According to reports, his father, Gene Strahan, had predicted that Jean was trouble for him and had even written a letter to his son in the same year that he married Jean.
In the letter, Gene had stated that his son's wife didn't care for their family background and added that she was going to 'ruin' his life.
And she almost succeeded in doing just that but the former linebacker has since moved on to happier times.
Follow the source to see more photos
Do you think Michael is really innocent of the accusations Jean made against him?
Let us know in the comment section below.
Source: Daily Mail, NY Post
Please fill in your e-mail so we can share with you our top stories!