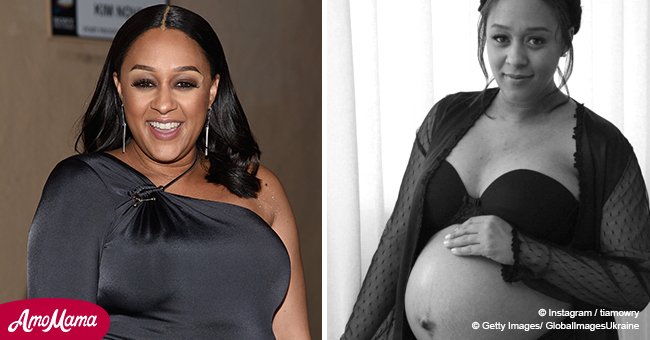 'Sister, Sister' star Tia Mowry gives birth to a daughter
Tia Mowry-Hardrict has given birth to her second child with her husband. She and Cory Hardrict already had one child, a boy.
After struggling to get pregnant, the two finally announced the big news in November 2017. Their little baby girl was born on May 5, 2018, according to People.
Tia, 39, and Cory, 38, announced the birth of their daughter on Instagram on Sunday, May 6, 2018. The baby girl arrived Saturday at 10:29 a.m.
According to the post, the little girl weighed 6 lbs., 4 oz., and measured 19.8 inches long. The couple of 10 years also have a 6½-year-old son named Cree Taylor Hardrict.
Tia first announced her pregnancy in November with an Instagram post. In it, her husband and son could be seen kissing her bare belly.
In January 2018, the actress revealed her baby's sex on her YouTube Channel Tia Mowry's Quick Fix. There she was seen biting into a cake pop that contained a pink center that she had made herself.
In the baking-tutorial video, the star announced that they were having a baby girl and that they were excited about the news. During her pregnancy, Tia wore a variety of fashionable outfits.
'Feeling grateful and blessed as we welcome our little baby girl into the world! We are in heaven…'
Tia Mowry-Hardrict and Cory Hardrict, Instagram, May 6, 2018
In January 2018, she claimed that having been a fashionista before meant that she would remain one during her pregnancy. She refused to force herself into pregnancy pants.
At the time, she also shared that she and her husband had struggled to have another baby. She had faced infertility and endometriosis before conceiving her daughter.
"I didn't think I'd be able to have a second child, and it's been over seven years since my first pregnancy," the actress stated. She also added that pregnancy had been put off, although she did want another child.
In March 2018, Tia shared that the couple hadn't completely decided on a name for their daughter yet. What was a fact, however, was that the girl would have a unique name just like her older brother.
She shared that they liked unisex names. "Names that show some strength and some power behind it. It has a great meaning," Cory added.
Cory did reveal that the little girl's name would have the initial: C. The middle name would start with a T to include Tia in the name.
The name would be C.T. and H. for Hardrict.
Please fill in your e-mail so we can share with you our top stories!