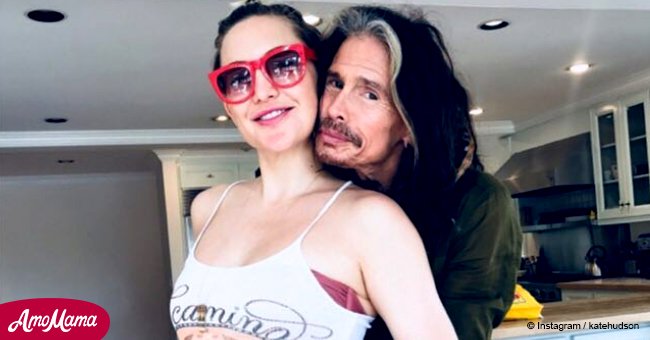 Kate Hudson flaunts growing baby bump while out strolling with her boyfriend

The 39-year-old actress showed off her baby bump during a casual walk in Malibu with her boyfriend, Danny Fujikawa.
The couple was seen out and about on Saturday, May 5, 2018, walking their Australian Shepherd, Cody, on the hot and sunny day.
Due to the weather, Kate Hudson, who is expected to give birth by the end of the year, chose to wear a striped white short dress with a deep plunging neckline, as reported by the Daily Mail.
To complete the look, the actress opted for a pair of flip-flops, mirrored sunglasses, and several bracelets on her left wrist. She also had her short-cropped hairdo held on tight by hair clips.
Fujikawa followed his girlfriend's example and opted for a more casual look. He had a cap, a white t-shirt, dark sunglasses and shorts on while holding onto their dog's leash.
Hudson's baby will be a girl, and the mother couldn't be happier since she already has two sons: 14-year-old Ryder and 6-year-old Bingham. According to her, her daughter will help balance the family's female energy.
When it comes to the pregnancy, Hudson revealed that she has been feeling sicker than she ever did while pregnant with Ryder and Bingham, something she believes to be normal when it comes to girls.
To make sure that everything goes well, the 39-year-old has been taking good care of herself, not only when it comes to her diet, but also physical exercise. Hudson has been doing plenty of walking, as well as prenatal yoga.
"When you become the vessel, when you have the privilege of carrying life and giving life, you have to listen, and so right now I think it is all about taking it easy."
Kate Hudson, People, May 3, 2018
Hudson has been laying low in the past few months. Her latest project was Marshall, a film by Reginald Hudlin that premiered in October 2017. The movie flopped despite the positive reviews, grossing just $10 million against a $12 million budget.
Now, the actress is exclusively focused on giving her mother, Goldie Hawn, and step-father, Kurt Russel, a healthy granddaughter.
Please fill in your e-mail so we can share with you our top stories!