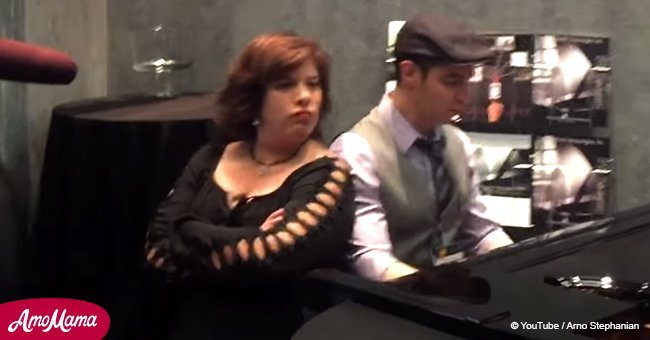 Man wows the crowd on a piano until a woman jumps in and surprises everyone
The fun duo amazed the crowd with their exquisite impromptu performance playing the piano.
A man sat down in front of a piano in Anaheim at a NAMM Show. He was dressed like he took a time machine coming all the way from the late 30's.
The people were observing him and it was only until his fingers touched the ivory keys that he graced his audience with his incredible talent.
He played a groovy boogie-woogie tune and the crowd tapped their feet and bobbed their heads along as they listened to the fun tune.
Almost everyone in the crowd took out their phones and recorded the whole thing.
One of them uploaded the video to YouTube and soon enough, it became viral.
Although the man's performance would have brought the house down, it was not the highlight of the night.
What caught the people's attention was that a random woman from the audience stood up and sat beside the pianist.
At first, she was bobbing her head up and down to the sound of the beat. Suddenly, she shouted, "I want in on this!"
The woman spun around on the piano bench and started playing along with the man.
If it was great at first, it even became better when the woman joined playing and the piece became a two-part harmony.
The duo played like pros and never missed a beat. It was like they have been performing together for years.The crowd cheered them on as the two pianists showed off tricks on the instrument.
In the middle of their impromptu performance, they crossed their hands while playing and they even stood up to switch places while never missing a key.
They surely made everyone's nights special with their great talent.
As explained by Share Tap, Boogie Woogie music is a genre that rose to popularity in the late 20's.
It is known as a fun and upbeat kind of music that is, most of the time, associated with dancing.
In fact, one of the oldest songs of the genre had lyrics that instructed the listeners how to dance along to the fun tune.
Please fill in your e-mail so we can share with you our top stories!