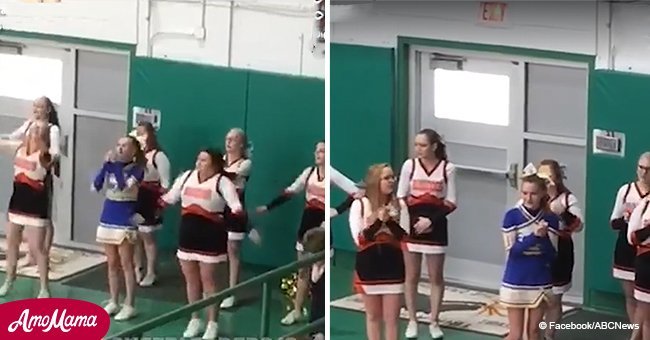 Cheerleaders surprised the crowd when they approached a rival cheerleader caught on her own
Tori Adams was excited to cheer for her school's basketball team, but only she from the cheerleading squad turned up during the match.
Her fellow cheerleaders from Northwestern High School fell ill, as reported by Fox4KC.
Tori felt intimidated as cheerleaders from the rival school, Hardin-Central, performed their routines in front of the crowd during the CLAA Conference Tournament in Missouri.
The poor girl didn't know what to do. Much to her relief, the rival cheerleaders came up to her and invited her to cheer alongside them
Wearing a blue attire, Tori even stood out. The cheerleaders from Hardin-Central were wearing maroon.
It was a heartwarming sight when the rival cheerleaders invited Tori into their squad instead of intimidating her.
This amazing display of sportsmanship was captured on video. Brenda Milligan, the mother of one of the cheerleaders from Hardin-Central, took a video of Tori cheering alongside her rivals. She shared it with FOX4.
She said that while her daughter and fellow cheerleaders were waiting for their next game, a cheerleader from Northwestern came alone to cheer on her team.
"She was embarassed and scared, just like any of us would be if we had to cheer in front of a big crowd all alone," Brenda said.
Her daughter and her squad went out to cheer with the lone cheerleader from the rival team.
"They learned her cheers and were able to present them to the crowd in a short amount of time. May people were there supporting the girls in this great achievement," Brenda added.
In an interview with FOX 4, Tori said many of the girls on her squad were sick during that day. Others had other commitments because the game was a rescheduled make-up game.
Her coach gave her the option to cheer or not cheer, but she felt that she had to cheer on their team.
She was relived when the other girls came over to learn her cheers and then cheered alongside her.
Please fill in your e-mail so we can share with you our top stories!