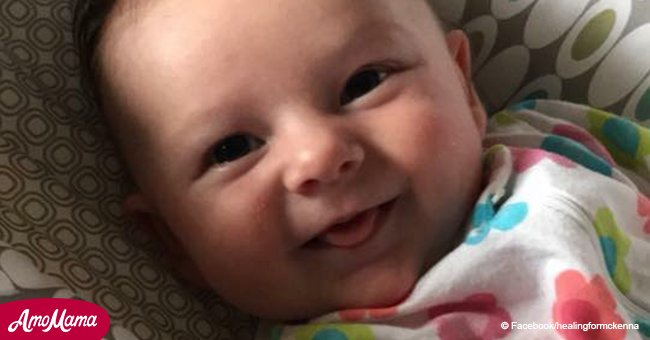 Baby fights for her life after being hit in the head with a softball while in mom's arms
McKenna Hovenga is a 7-week-old baby that was hit in the head by a softball. At the time of the incident, her mother, Kassy, was feeding her and didn't see the ball.
According to the Mirror, the ball was overthrown, flew over a fence and hit the baby. The incident occurred on May 2, 2018.
McKenna Hovenga is fighting for her life at the hospital after suffering a fractured skull. She was rushed to the hospital in Iowa, US, on Wednesday after being hit by a ball while her mother held her.
The two were attending the little girl's father's game. Pictures have shown the infant in intensive care where doctors are working hard to battle seizures following two bleeds on the brain.
Two days after the tragic accident, Lee, McKenna's father posted two photos of his daughter smiling. He wrote, 'I'm so grateful for all of the prayers and support we are receiving from all across Iowa and America.'
Lee shared that it was heartwarming knowing that there were many selfless people in this world that prayed for others. In an effort to assist the family, a You Caring page has been created for donations.
'It's scary that this was the last time I saw her smile, heard her laugh, and got to hold her. This is giving me so much hope right now.'
Lee Hovenga, Mirror, May 6, 2018
Friends and family have raised $34,236 of the $50,000 goal towards medical costs. Updates on the little girl's condition have been posted on a Facebook group named Healing for McKenna.
A post on Sunday revealed that the baby girl had not had a seizure for 48 hours and doctors were carrying out further tests.
Scans showed that the softball had struck McKenna in the front of the head. The little girl was using a breathing and feeding tube immediately after the incident.
A previous Facebook post, from an admin called Laura, insisted that Kassy had been in a 'safe location' when the accident occurred. She explained that the ball had come over the fence and either hit McKenna first or Kassy.
The person, who appears to have been in attendance of the game said that they weren't sure what had occurred. She shared that everything happened quite fast and the mother was looking down at McKenna at the time as she was feeding.
Neither of them saw the ball as it came over the fence. The little girl was said to have taken a few seconds before screaming in pain.
No one was aware that she had been hit up until a large lump started forming on her head.
Please fill in your e-mail so we can share with you our top stories!