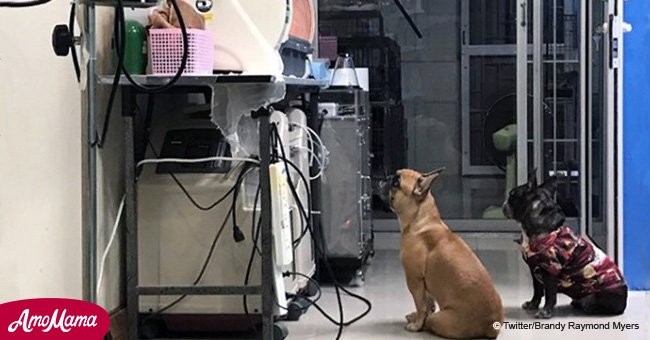 Mama dog refused to leave her puppies that were put in an incubator
Her maternal instincts kicked in and she did not leave the sight of her puppies.
As reported by Daily Mail UK, a 4-year-old French bulldog, Kuma, gave birth to three puppies prematurely at a veterinary hospital in Bangkok, Thailand, on April 20.
Two of the three puppies were not in good condition and needed extra care to sustain their life. The medical staff rushed the two puppies into the incubator.
Kuma, worried for her babies, did not leave the babies on their own. Despite the puppies being inside the machine, Kuma stayed by their side and refused to budge from the place.
As reported by NTD, Kuma pawed at the incubator with a concerned look for her puppies who managed to keep themselves warm by the incubator's gentle heat.
Kuma kept looking at them intensely as she stood on her hind legs on top of a green colored stool. The puppies were adapting themselves after getting out of the protection of their mother's womb.
The owners captured the whole episode with their camera as Kuma stayed focused on her children. One of the puppies started to move in the incubated environment and Kuma looked excited to see her child battle to survive.
The father of the puppies named Sour Pork sat next to Kuma calmly. The owners had dressed him up in a floral printed shirt.
The three puppies were taken home on the same day in the evening after the condition of the two puppies stabilized after the incubation process.
The owners shared that the puppies were finding their feet being a part of the family and their eight dogs. Kuma was still concerned about her new puppies after reaching home and took care of them like a nurse.
The photos and video of Kuma caring for the puppies became viral and moved the viewers as the bulldog showed human-like reactions for her offspring.
Please fill in your e-mail so we can share with you our top stories!