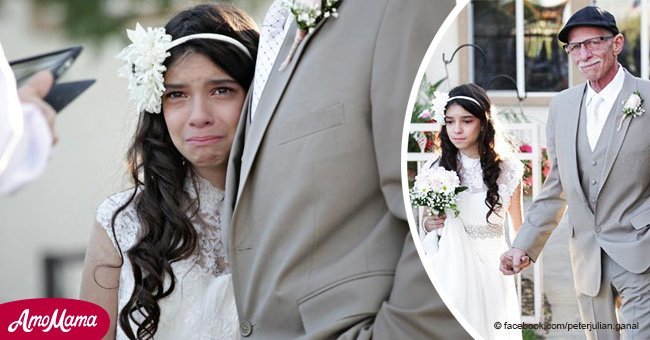 62-year-old father 'marries' his 10-year-old daughter to fulfill her dream
His little daughter's greatest dream was to be walked down the aisle by her beloved father, but his time was running short and they had the most beautiful idea to make it happen.
Jim Zets and his wife Grace met each other in California during their college years, and that's how their love story began. As soon as they finished their studies they decided to marry, and their union was never broken.
They built a life together and grew a beautiful family, having children and grandchildren. But one day they heard a terrible piece of news that took their lives by surprise, according to Por qué no se me ocurrió.
Everybody in the family described Jim as a great person who was loving, dedicated and committed to his loved ones. His children and grandchildren really appreciated all his love and thanked him for showing them the value of dreaming.
When Jim turned 50 one of his daughters revealed to him that he was going to be a grandfather for the first time. Nine months later, with the arrival of his first grandson, his wife Grace told him something unexpected: she was pregnant!
Months later a beautiful baby was born, and they called her Josie. Since the day she was born she became the apple of her parent's eyes with her older brothers being already adults.
Everything was going great, but then sad news struck the family. When Josie turned 10, her father was diagnosed with a very advanced pancreatic cancer.
Jim was in a terminal state and his days were numbered. This discovery was devastating for the entire family, and especially for Josie, who had a very special bond with her father.
Since she was very little, Josie had dreamed of the day when her father was going to walk her down the aisle to get married.
But because of her father's illness, she realized that dream was never going to become a reality, for Jim had only a couple of months left to live.
But then Jim came up with a great idea. He decided to set up a pretend wedding day for his daughter to give her the most beautiful memory of him and in a way making her dream come true.
For what we can see in the pictures and videos, the 'wedding' was an unforgettable moment. She looked stunning in her white dress and the place was beautifully decorated with flowers.
There were many guests for the ceremony, and Jim hired a professional photographer to capture the beautiful moment for eternity.
The day of the 'wedding' Jim and Josie walked together down the aisle. He held his daughter's hand during the whole time until the priest declared them 'father and daughter'.
It was a very emotional moment that will be impressed forever on Josie's heart as well as in the hearts of everybody who was present. Jim didn't leave this world without making the dream of his little girl come true.
Please fill in your e-mail so we can share with you our top stories!