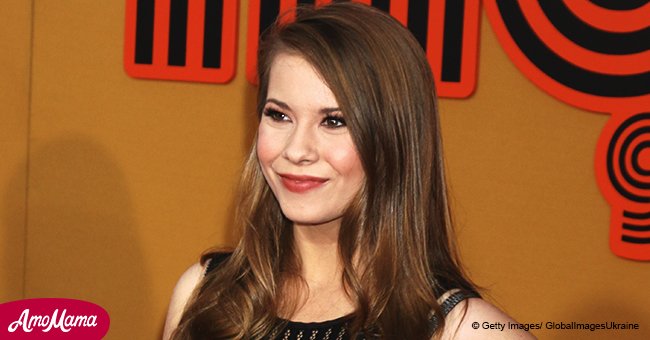 Bindi Irwin looks stunning on video talking about dad while holding dangerous animal in her hands
Wildlife conservationist Bindi Irwin dazzles in a new video while talking about her dad.
AmoMama shares with you details of an intriguing video of Bindi Irwin holding a dangerous snake while talking about her late dad as gathering from her Instagram page.
She's the daughter of late iconic wildlife conservationist Steve Irwin famously called The Crocodile Hunter.
Not only did she take her good looks and love for wildlife from him, but she also received a daring and brave spirit as she was seen holding a dangerous animal in a recent video.
Just like her father who dared to do the unusual and played with a dangerous animal, Bindi did the same as she was playing with a big snake while talking about her dad.
In the video, Bindi was dressed in her zoo uniform as she informed fans that her late dad was getting his star on the Hollywood Walk of Fame.
Bindi glowed as she was all smiles while the animal was wrapped in her hands as it moved towards her.
Her signature honey-gold hair was styled into a straight bob, and her face was lightly made up.
The video amassed over 200,000 views with fans recounting their experiences with her late father.
'A gorgeous Woma python to decorate a lovely tribute post. I grew up watching Steve Irwin, and it's amazing the pride and respect you can hold for someone you never had the pleasure of shaking hands with.'
'I remember when he died I was so crushed. And she's so grown up and super gorgeous. Emotions.'
It's lovely to see Bindi powerfully carry on the legacy had dad left behind.
Her dad was famous for the show 'The Crocodile Hunter' which he hosted with his wife, Terri Irwin.
They also owned and operated the Australia Zoo which was founded by Steve's parents.
He painfully died when he was stung severally by a stingray barb while filming the documentary film, 'Ocean's deadliest.' He died at the age of 44.
May his soul continue to Rest In Peace.
Please fill in your e-mail so we can share with you our top stories!